By IvyLee Rosario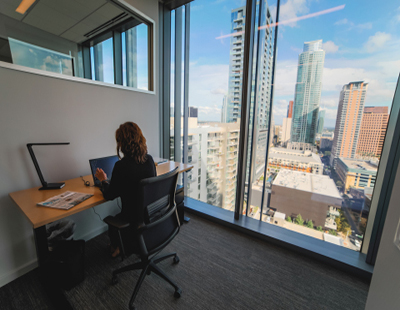 Firmspace, the luxury co-working suite for established professionals, launched the grand opening of its flagship Austin location. Located at 500 W. 2nd St., the location features 360-degree views of Lady Bird Lake and downtown Austin.
"Co-working shouldn't involve a trade-off between privacy and isolation," said Matt Ferstler, CEO & co-founder of Firmspace, in a prepared statement. "Professionals such as lawyers, financial services firms and remote corporate executives demand a secure, polished, yet private office space without the financial constraints of long-term leases or the professional drag of a second-tier, crowded space."
Co-working Community
The space features soundproof offices, glass privacy walls, state-of-the-art camera and security entry systems, conference rooms, natural light, fiber internet, a fitness center, large common areas, after hour events, networking, trade events and an online communication network. The flagship location is near premium AA buildings with close access to restaurants, retail, courthouses, city hall and major employers such as Google and Deloitte.
"With the launch of Firmspace, we are witnessing the second wave of co-working," said Justin Bayne, co-founder & chief development officer of Firmspace, in prepared remarks. "Traditionally underserved niches like experienced professionals are finally finding their work home. With demand already moving us to capacity, and fast, we anticipate rapid-fire growth across the nation in the near future."
The company has plans to expand its co-working facilities to locations such as Denver, Houston, Dallas, New York City, Miami, Salt Lake City, Washington, D.C. and Atlanta.
Image courtesy of Firmspace