By Alexandra Pacurar
Fairburn, Ga.—In the era of e-commerce, the retail industry is transforming and adjusting to the new ways consumers prefer to shop. But despite these changes, the sector as a whole is still experiencing moderate growth, and the trend is expected to continue in 2017 and beyond. The retail properties most likely to survive and be successful in 2017 are those with high-quality retailers and amenities, and their owners are constantly adapting them to keep up with the times. Shopping center developers are also increasingly focusing on adding creative experiences to their properties in order to engage and attract the surrounding community. In an exclusive interview with Commercial Property Executive, Jeff Garrison, a partner with Georgia-based development firm S.J. Collins Enterprises, discusses why experience-focused projects are a key focus for commercial real estate developers today, but also the challenges creating these properties present in the ever-changing retail environment.
CPE: S.J. Collins Enterprises is celebrating a decade of activity. How has the retail market changed over this time period?
Jeff Garrison: Retail real estate is experiencing a major shift. When you can shop online for much of your daily needs, you have to provide something creative and unique to get people out from behind their computer. It's really about experience retail now. Retail is changing from the traditional bricks and sticks to now being more focused on a sense of community.
CPE: How difficult is it to find sites for the kind of shopping centers S.J. Collins builds? Are you considering entering new markets this year? If so, which ones?
Garrison: The sites that we look for are extremely hard to find and require the right mix of density and demographics, with adequate access. We are looking all over the Mid-Atlantic, Southwest and Florida for new project locations and have a number that will be announced this year.
CPE: What is unique about your development process when beginning a new project?
Garrison: The community involvement for many developers is of minor importance, but now it is a part of our focus. When we start a new project, we immerse ourselves into the community, and meet with leaders and neighbors to hammer out details that get everyone on board for a project before it begins. This is the new face of retail development that not too many people are talking about. Communities want to be engaged in the process. They want pocket parks and connectivity, activated and sustainable high-energy centers. That is our specialty.
For instance, in Decatur, Ga., we held 50 meetings with residents and community stakeholders to create an experience-based shopping center that met their ideal. It's different with each community. In this community, they wanted parks, cross walks and various elements to create the walkable community.
CPE: The 5th Street Station project was developed following this model of incorporating the community. Tell us more about this development and its success.
Garrison: It worked because of the relationships we have with top-level retailers who trust our development strategies and know it's going to be a successful project. That's the part of the success in addition to the community buy-in. We worked with the community to meet their vision. For area residents, it was important to have a connector parkway between two major roads. We created a new traffic light and the 5th Street Station Parkway. The $13 million project included constructing the new road, building a new $2 million bridge, revamping the current drainage and filtration systems, restoring large stretches of Moore's Creek and incorporating over two miles of trails. Our team made a substantial commitment to improving the infrastructure as part of our dedication as a firm to creating walkable lifestyle environments that are sustainable, connected and dynamic.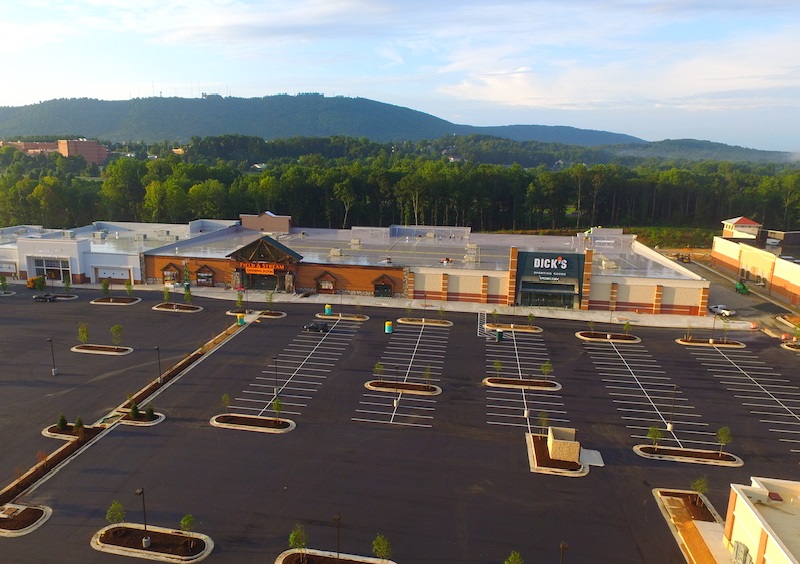 CPE: What is your outlook for the lending environment for retail in 2017?
Garrison: To me, the biggest challenge is a recent trend in financing for projects. Lenders are demanding faster and higher returns on investments. That poses obstacles to delivering experience-like projects, which are necessary in the new retail real estate landscape. They're necessary, but more expensive.
Lenders are becoming more cautious in the leverage the banks are allowing, but for quality projects, we are still seeing a tremendous interest from banks. In the retail market, even with the little bit of pullback, those high-quality projects are still very sought after. There is more of a focus on the underwriting.
Part of our lending comes from banks and we work with a lot of private equity investors. Because the multifamily market is starting to slow down, a number of private equity investors are approaching us to invest in these high-level projects. Investors in apartments and multifamily projects are now turning to this type of project to invest in.
CPE: How do you think the flood of maturing loans originated in 2006 and 2007 will affect the availability of capital in 2017?
Garrison: The capital markets are strong and healthy. In 2006 to 2007, the issue with all those maturing loans was the declining values. There was a credit crunch where people couldn't get loans and those asset values were in decline.
Now in 2017, there are lenders with loan dollars looking for quality assets. The valuations have improved so much that people should be able to reposition their assets and find replacement dollars for their loans.
CPE: Do you expect any changes to regulations when it comes to lending for CRE (particularly retail assets) in 2017?
Garrison: Yes. There were some regulations that were established after the recession that have created undue burdens. We expect to see some of those regulations relaxed.
Images courtesy of S.J. Collins Enterprises, 5th St. Station