November 12, 2010
By Barbra Murray, Contributing Editor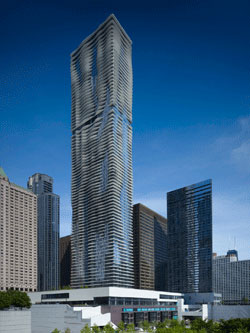 There is nothing stopping the development of the $125 million Radisson Blu Aqua Hotel now. Acting on behalf of Magellan Development Group L.L.C. and Carlson Hotels, commercial real estate services firm Holliday Fenoglio Fowler orchestrated $66 million in financing for the development of the upper upscale Blu Aqua Hotel in downtown Chicago's 82-story mixed-use Aqua Tower.
The Radisson Blu Aqua will make its home on floors four through 18 of the Aqua Tower, which boasts a location fronting Lake Michigan at 225 North Columbus. In addition to 334 guestrooms, the property will offer 27,000 square feet of meeting space, a 125-seat restaurant and bar and certain amenities provided through the Aqua Tower.
The credit crunch has not completely released its grip, but the lending community did not give the lodging project the cold shoulder. Ultimately, it was MassMutual that came through with financing, providing a seven-year construction/permanent loan. "The fact that Aqua Tower is a landmark building and the quality of the sponsors are what made the project so compelling to Mass Mutual, Daniel A. Kaufman, director with HFF, told CPE.
And improving conditions in the Windy City's hotel market didn't hurt either. "As the process unfolded and we moved toward closing, the business plan started to verify itself," he said. "As we went into the second and third quarter, we saw a dramatic improvement in the Chicago hotel market in terms occupancy and rates, particularly in the upper and upper upscale sectors."
Dramatic indeed. From January through August of this year, demand increased 16 percent, according to Hunden Strategic Partners' Luxury Hotel Report. Rob Hunden, president of Hunden Strategic Partners, noted that although the Chicago market has seen an increase in supply of luxury hotel rooms this year, the market has responded favorably by absorbing them.
Magellan and Carlson expect to complete construction of Radisson Blu Aqua in September 2011, at which point the property will hold the distinction of being the first hotel to carry the Radisson Blu flag in the U.S.