By Gail Kalinoski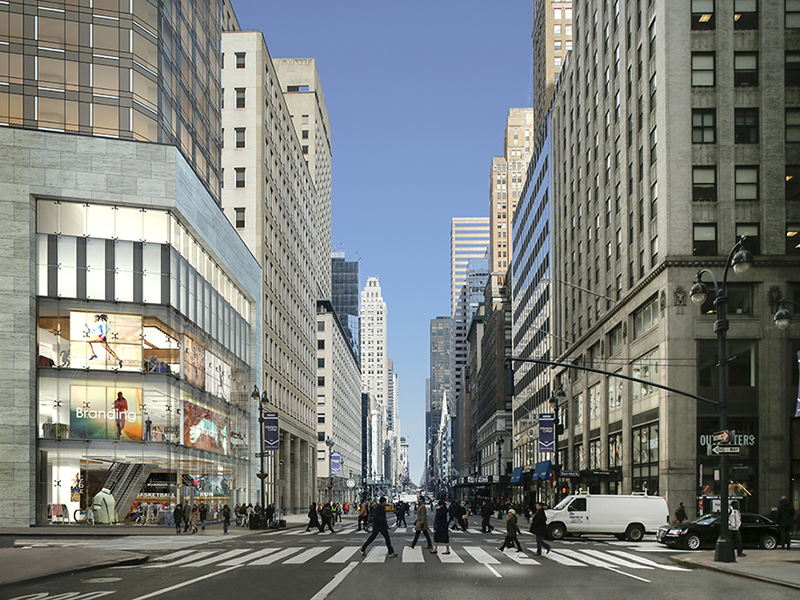 Ceruzzi Holdings LLC and SMI USA are moving ahead with their plans for a 425,000-square-foot mixed-use tower at 520 Fifth Ave. in Manhattan now that HFF has arranged $200 million in pre-development financing. Groundbreaking of the vertical development is scheduled to begin in 2018, three years after the joint venture acquired the 10,625-square-foot site from Thor Equities for $275 million.
The development, a joint venture between Ceruzzi and SMI, the United States subsidiary of Shanghai Municipal Investment, will feature more than 33,000 square feet of highly coveted Fifth Avenue retail space, including 85 feet of prime frontage on Fifth Avenue. The remaining square footage will have luxury condominiums and a five-star hotel.
HFF secured the floating-rate loan through Mack Real Estate Credit Strategies LP. In August, 2015, HFF brokered the sale of the property at the southwest corner of 43rd Street and Fifth Avenue from Thor to the partnership and secured $150 million in acquisition financing. The proceeds of the new loan will be used to repay existing debt, conclude design and move forward with pre-development work. "Mack presented us with exceptional terms and an extremely attractive rate. Mack has performed incredibly well and we closed the deal less than a month from when we agreed to terms," Tom Tao of SMI USA said in a prepared statement.
"The timeliness and diligent focus of all parties involved came together to solidify the deal, allowing us to refinance this excellent asset and move along the process on an expedited timeline," Lou Ceruzzi, president & CEO of Ceruzzi Holdings, said in prepared remarks.
The HFF's debt placement team was led by Managing Director Christopher Peck and Senior Managing Director David Nackoul.
Manhattan Activity
HFF has helped Ceruzzi and SMI USA recently with another high-profile Manhattan property. In April, Peck and the HFF team helped a joint venture between Ceruzzi and SMI USA secure $272 million in first mortgage financing for the ground lease position in 885 Third Ave., the 635,000-square-foot office tower known as the Lipstick Building. Money from the four-year, fixed-rate loan from Credit Suisse through its U.S. subsidiary, Column Financial Inc., was used to retire an existing loan and cover closing costs.
Ceruzzi and SMI USA are also teaming up on a third Manhattan development—a luxury condo project at 138 E. 58th St.