By Gail Kalinoski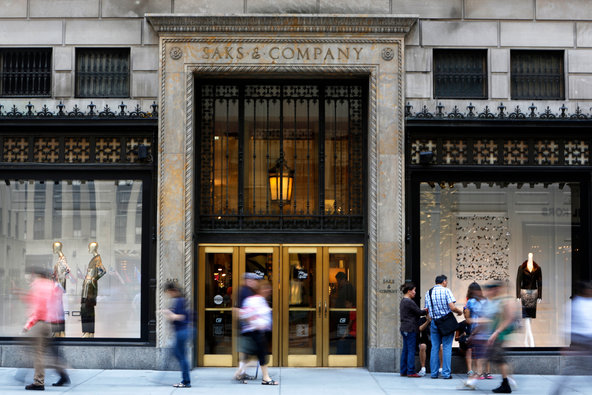 International tourists and other shoppers attracted to the luxury stores that line Manhattan's Upper Fifth Avenue have helped the stretch between 49th and 60th streets retain the title as the most expensive retail street in the world for the second year in a row.
In the 27th edition of its Main Streets Across the World report, Cushman & Wakefield said rents on Upper Fifth Avenue had reached $3,500 per square foot by the second quarter of 2015, an increase of 3.6 percent over last year and nearly 50 percent above second-place Causeway Bay in Hong Kong, which had rent of $2,399 per square foot. Rents are all reported in U.S. dollars per square foot.
The report tracks more than 500 of the top retail streets around the globe and includes a ranking of the 65 most expensive streets, identifying each country's most expensive street. One of the report's key findings is that despite increased global uncertainty over the past year, retail rents rose in 35 percent of the streets around the world.
One part of the world that did see lower rents was Asia Pacific, due to weaker retail sales and slowing tourism in China in particular. It wasn't all bad news – the lower rents created incentives for more international luxury brands to move in, the report noted. It also found that high-profile international retailers were also targeting Australia, New Zealand and Metro Manila. And the global commercial real estate services firm was optimistic for the region's future.
"The outlook for Asia's overall retail market is largely positive, with retail sales growth averaging 8.5 percent over the next five years," Theodore Knipfing, Head of Retail, Asia Pacific at Cushman & Wakefield, stated.
Causeway Bay in Hong Kong had a rent of $2,339 per square feet. Two other Asian main shopping streets made the top ten – The Ginza in Tokyo with $881.9 per square foot and Myeongdong in Seoul at $881.8 per square foot.
The Avenue des Champs Elysées in Paris retained its ranking as the most expensive retail location in Europe, the Middle East and Africa (EMEA), coming in third on the overall list for the second year in a row with rent of $1,372 per square foot. In fact the top four – Upper Fifth Avenue in New York City, Causeway Bay in Hong Kong, Avenue des Champs Elysées and London's New Bond Street, with rent of $1,321 per square foot – were in the same positions as last year. Fifth on the list, Via Montenapoleone in Milan, moved up from sixth place with rent of $1,035 per square foot.
Three other EMEA cities made the top ten list: Bahnhofstrasse in Zurich, sixth with rent of $894.6 per square foot; Kohlmarket in Vienna, ninth with rent of $478.2 per square foot; and Kaufinger/Neuhauser in Munich, tenth with rent of $459.6 per square foot.
"From an EMEA perspective, despite any economic and political uncertainties in certain countries, the retail market is expected to see further improvements," said Justin Taylor, Head of EMEA Retail at Cushman & Wakefield. "Indeed, a strong retail sales growth forecast, robust occupier demand and a lack of supply in many locations means rents will keep rising in the most popular high streets."
In the Americas, the United States had seven of the region's top 10 most expensive cities, with Toronto, Rio de Janeiro and Vancouver at sixth, seventh and eighth respectively. Los Angeles' Rodeo Drive had the highest retail rents outside New York City's Upper Fifth Avenue, with rent at $800 per square foot, a 23 percent increase over 2014. Seattle had the highest rent growth in the U.S., up 27.3 percent to $70 per square foot. San Francisco's Union Square, boosted by strong tourism and a vibrant local economy, saw its rents increase 13 percent year-to-year to $650 per square foot and its vacancy at 1.1 percent. Chicago's Michigan Avenue had a very strong showing with average retail rents of $525 per square foot, up 8.2 percent.
Toronto's Bloor Street was Canada's most expensive with rents at $320 per square foot. Also in Canada, Edmonton's Whyte Avenue was the most affordable in the Americas with rent at $45 per square foot.
Gene Spiegelman, vice chairman & head of retail services for North America at Cushman & Wakefield, said the Americas retail markets would have a "positive trajectory" in 2016, especially in the U.S., where consumers are benefiting from lower energy costs and stable employment expectations.
"Retailers will continue to add physical stores to support their expansion plans while at the same time optimizing their footprint to respond to the ongoing evolution of 'clicks and bricks,' " he said. "International luxury brands will continue to dominate the high street, providing a boost to the key destination cities with high exposure from tourism and strong foot traffic."
Photo courtesy of the New York Times.