TIAA-CREF Buys into Manhattan's Tallest M-F Asset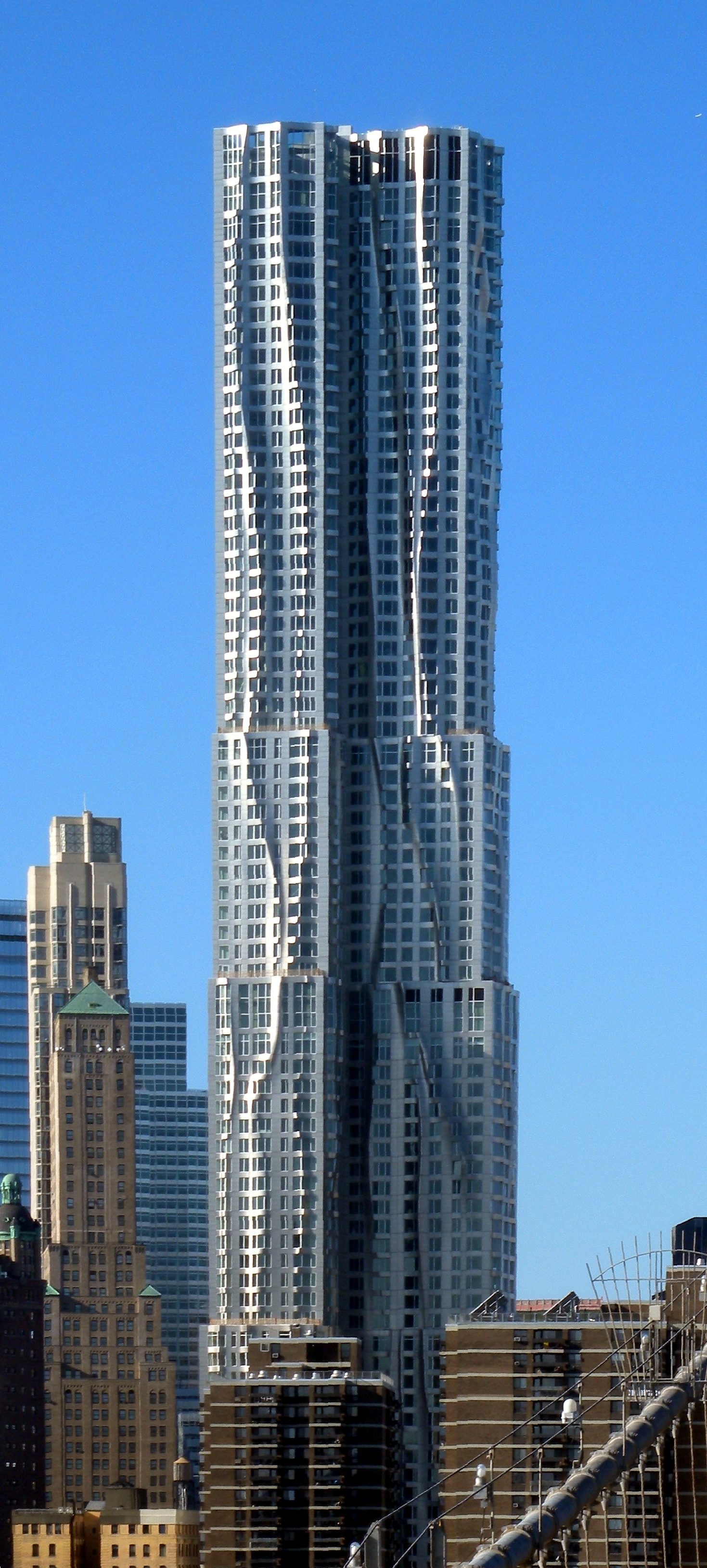 Forest City and National Real Estate Advisors have recapitalized the ownership structure of New York by Gehry, also known as 8 Spruce St., the tallest occupied residential building in the western hemisphere at 876 feet. TIAA-CREF now holds a 49 percent equity stake in the residential portion of the building, which is valued at $1.05 billion in its entirety. Forest City and National Real Estate Advisors are retaining 26 and 25 percent stakes, respectively. Prior to the recapitalization, Forest City and NREA owned 51 percent and 49 percent, respectively. CBRE Group Inc. was retained to market the minority ownership stake.
The property's run as New York's tallest residential asset is set to expire once the condominium/hotel known as One57 is completed in 2013. The project, which is being built by Extell Development Group, gained a bit of unwanted attention when a rooftop crane collapsed during Hurricane Sandy.
Illinois Office Sells for $148M
Retail Properties of America Inc. has sold the Aon Hewitt Property in Lincolnshire, Ill., for $148 million. The 818,686-square-foot property is 100 percent leased to Aon Hewitt. Proceeds from the sale were used to repay $117.7 million in mortgage debt and accrued interest encumbering the entire Aon Hewitt Campus. The company did retain ownership of the remaining 343,000-square-foot Aon Hewitt East Campus, which is also 100 percent leased to Aon Hewitt. As of mid-November, Retail Properties of America Inc. had sold $414.4 million worth of non-core and non-strategic assets in 2012.
IKEA Buys Florida Land Parcel for $31.5M
Procacci Development Corp. has sold a 14.6-acre parcel of land in Sweetwater, Fla., to Swedish home furnishings retailer IKEA. The tract fronts Florida's Turnpike next door to the Dolphin Mall. IKEA is proposing to build a 417,000-square-foot store that would open as early as Fall 2014 atop a two-level parking garage with 1,500 spaces. Florida is currently home to three IKEAs, the first of which opened in 2007 in Broward County's city of Sunrise.
Vornado Complete $707M Retail Condo Acquisition
Vornado Realty Trust has completed its previously announced acquisition of the retail condominium located at 666 Fifth Ave. in Manhattan. The deal expands its best-in-class Manhattan street retail portfolio to 2.3 million square feet. The retail condo at 666 Fifth Ave. is leased to Uniqlo, Hollister and Swatch. Vornado also owns half of the office building above the retail space. The acquisition will be used in a like-kind exchange for income tax purposes for two completed asset sales and the sale of the Green Acres Mall in Valley Stream, N.Y.
Carter Validus Adds $65M Data Center to Portfolio
Carter Validus Mission Critical REIT Inc. has acquired a data center in Philadelphia for $65 million. The 121,000-square-foot asset is 100 percent leased to a large investment management company and is designed to withstand hurricanes, tornadoes and earthquakes. CBRE Group Inc. represented the seller in the transaction.
NYC's Plaza Hotel Sees Majority Trade
Sahara India Pariwar, an India-based conglomerate, has completed its purchase of a 75 percent interest in the Plaza Hotel New York from real estate company EL Ad US Holdings. The hotel, which is located at the southeast corner of Central Park, had a total valuation of $575 million. Co-owner Kingdom Holding Co., controlled by Saudi billionaire Prince Alwaleed bin Tala, will retain its 25 percent stake in the 230-room property. Solid Rock Advisors worked with the seller on the transaction. Fairmont Hotels & Resorts will continue to operate the hotel under a long-term agreement.
Kilroy to Develop 587 KSF for LinkedIn
Kilroy Realty Corp. has acquired a 12-acre parcel in Sunnyvale, Calif., where it will build a 587,000-square-foot office complex for LinkedIn Corp. under a 12-year lease agreement and development deal worth $315 million. Sunnyvale—home to tech giants like Apple, Yahoo! and AMD—has a Class A office vacancy rate of less than 5 percent. Kilroy management made the decision nearly three years ago to seek out projects in Northern California to diversify the portfolio, which was primarily Southern California based.
Alexander's Inc. Completes $751M Mall Sale
Alexander's Inc. has completed its sale of the Kings Plaza Mall in Brooklyn, N.Y. The property went for $751 million. Vornado, which manages Alexander's, had a share of the financial statement gain equivalent to $180 million. Vornado will also receive a special long-term capital gain dividend from Alexander's of approximately $202 million from the sale. This has led Vornado's board to declare a special long-term capital gain dividend of $1.00 per Vornado share.