September 16, 2011
By Suzann D. Silverman, Editor-in-Chief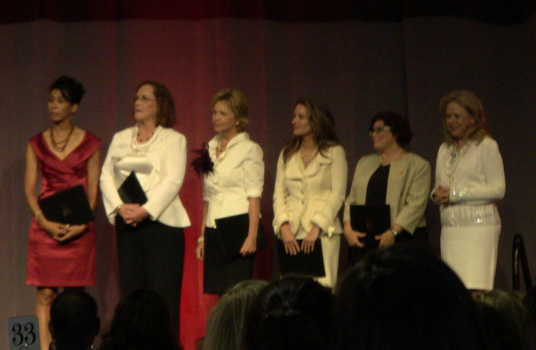 The Commercial Real Estate Women Network last night unveiled the winners of this year's Impact Awards during the 2011 Convention & Marketplace. The event took place at the Gaylord National Hotel & Convention Center at the National Harbor near Washington, D.C. The awards recognize professional achievement and support of diversity and the advancement of women in commercial real estate.
Winners of this year's awards were as follows:
Career Advancement: Char Fortune, managing director of corporate services for Grubb & Ellis Co., and Lee Eastwood, president of Eastwood Real Estate Services, for their work in creating and developing the CREW Leadership program for CREW Atlanta. The now 10-year-old program has graduated 140 women in seven classes and focus on developing business and personal skills such as strategic planning, change management, problem solving and team building to build leadership capabilities through a year-long series of monthly half-day and whole-day classes.
Economic Improvement: Irene MacDougall, partner in Tucker Ellis & West L.L.P. and a member of CREW Cleveland. MacDougall was nominated for her more than three years of work to finance the Flats project, the Wolstein family's redevelopment of the east bank of the Cuyahoga River in Cleveland.
Entrepreneurial Spirit: Pamela Bundy, founder & CEO of Bundy Development Corp. and a member of CREW Washington, D.C. Bundy was nominated for the award for her work as a "pioneer in urban-style developments" in Washington, D.C., including the development of such recognized communities as The Castle, The Icon and the 6th Street Flats. She is also a managing partner in the development of the mixed-use projects City Vista and CityCenter DC.
Member-to-Member Business: Cindy Wolfe, executive vice president at Bank of the Ozarks and a member of CREW Charlotte. Wolfe was nominated for her commitment to doing business with other CREW Network members, consistently referring financing, debt restructuring, legal, design and other work in a year when finance-related deals were tough to come by.
CREW Network also honored Bundy with the topmost Achievement of Excellence Award, designed to recognize an Impact Award winner for "extraordinary leadership, commitment to professional excellence and community, and a steadfast commitment to the selfless advancement of others."
The award ceremony followed a keynote speech by rand* Construction Corp. CEO Linda Rabbit, who reviewed advances in the perception and role of women in society over the past several decades and concluded that, while there has been progress, there is still far more to go. Naming the clarion call for the 21st century one for gender equality, she declared, "Women have the power to make things happen in the commercial real estate industry." Rabbit herself was originally trained as a schoolteacher, later became a secretary supporting her children as a single mother and quickly advanced before founding her construction company, the third-largest woman-owned general construction company in the country, with $250 million in revenues.
Look for upcoming commentary from the award winners on CPE TV.
CPE was the exclusive media sponsor for the event.