October 14, 2011
By Paul Rosta, Senior Editor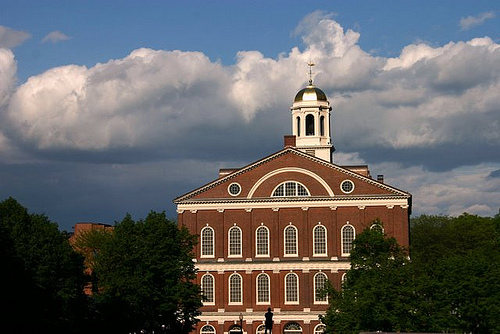 General Growth Properties Inc. confirmed on Friday that it has sold the landmark Faneuil Hall Marketplace in Boston and two other properties for $280 million in separate transactions.
New York City-based Ashkenazy Acquisition Corp. paid an estimated $140 million for the three-building Faneuil Hall retail complex, named after an historic 269-year-old building at its centerpiece. One of Boston's prime local attractions and tourist destinations, Faneuil Hall Marketplace features 49 shops, 44 pushcarts, 18 full-service restaurants, 35 food stalls and a comedy nightclub, according to GGP's Web site.
GGP also reported the recent sales of two other properties in separate transactions:  the office and garage components of Westlake Center, a mixed-use property located in Seattle, which commanded $119 million, as well as Riverside Plaza, a retail strip center in Provo, Utah, which traded for $21 million. The identities of the buyers of the two other properties were not immediately available on Friday. Taken together, the sales of the three properties removed $95 million worth of mortgage debt from the retail REIT's balance sheet, the company said.
Besides its benefits for GGP"s balance sheet,  the disposal of Faneuil Hall Marketplace also frees the company from a sometimes strained relationship with Boston's Mayor Thomas Menino.  Earlier this year, Menino publicly criticized GGP for its stewardship of the property and mix of tenants, telling the Boston Herald, "It's so unfortunate that they treat the shopping district and its tenants like a second-class mall." Following the deal's closing, Menino issued a statement offering support for the new owner: "After extensive review, I am confident that Ashkenazy will ensure that Faneuil Hall continues to be a landmark destination for our residents and visitors from all over the world."
The property sales disclosed this week are the latest in a recent string of financial activity and transactions for GGP, which emerged from bankruptcy in Nov. 2010. Last month, the company said that it had formed a joint venture with Canada Pension Plan Investment Board, which initially acquired two upscale centers in St. Louis, the 1 million-square foot St. Louis Galleria and the 482,000-square-foot Plaza Frontenac. Also in September, GGP refinanced the 1.3 million-square-foot Staten Island Mall in New York City for $273 million and 1.2 million-square-foot Boise Town Square for $140 million.