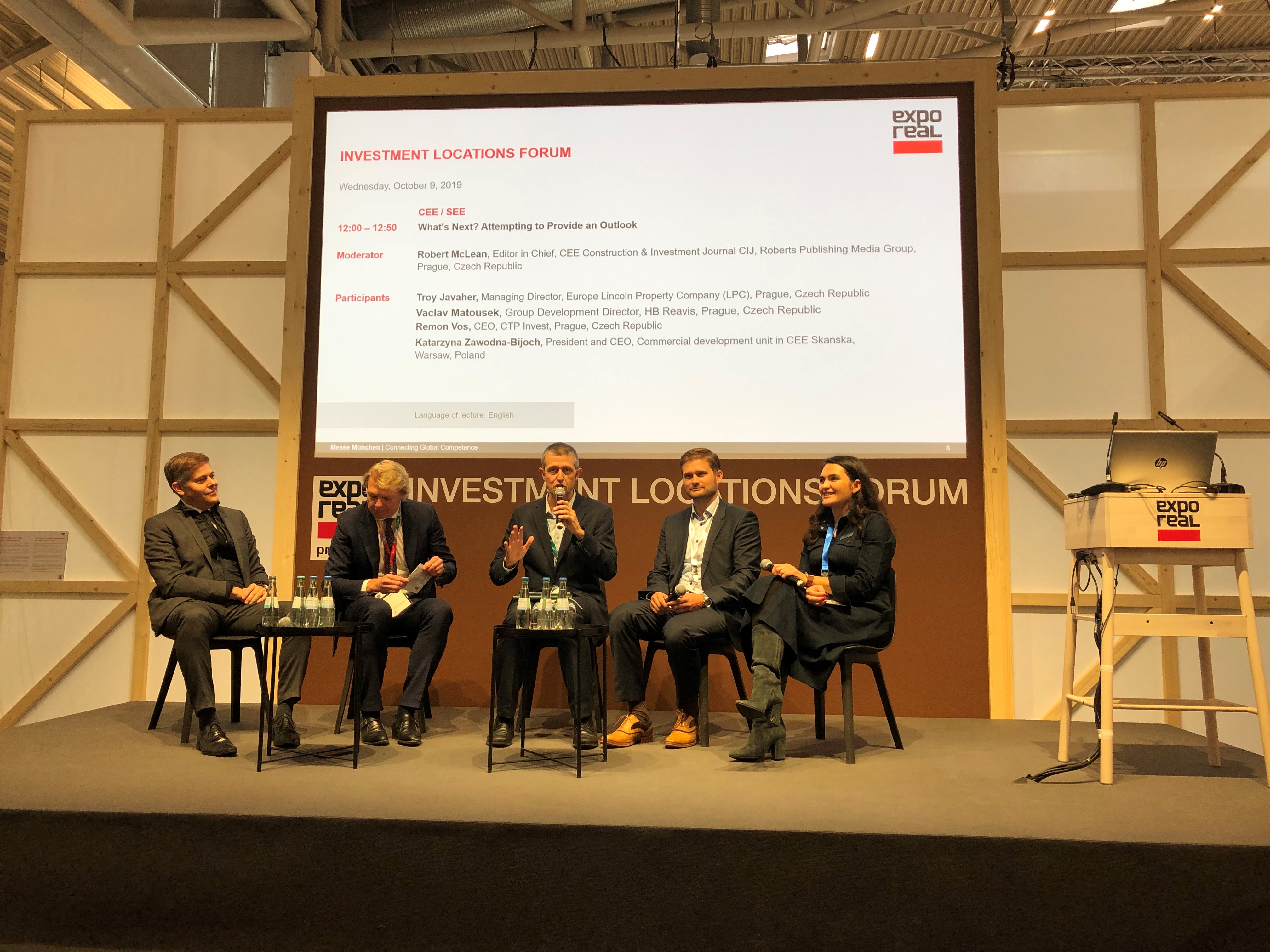 Brexit, trade wars, political risks and other economic uncertainties—all these are creating a dangerous mix for businesses in the real estate industry. With less than three months before the end of the year, it's high time to fine-tune strategies for 2020. What will work and where?
During the last panel at Expo Real's 2019 Investment Locations Forum in Munich, Troy Javaher, managing director of Lincoln Property Co.'s Europe arm, Vaclav Matousek, group development director at HB Reavis in Prague, Czech Republic, Remon Vos, CEO of CTP Invest, and Katarzyna Zawodna-Bijoch, president & CEO for the commercial development unit in Central and Eastern Europe at Skanska, pointed out what is happening in the market and where things are headed.
---
Read our full coverage of Expo Real 2019
---
Skanska is one of the largest players in Europe and also among the most confident ones. "We are bold, we are positive about the market, so, as long as the music is playing, we are dancing. However, we are very carefully choosing our locations in the markets that we're active in. We are focusing on delivering high-quality product. We are careful in choosing our business partners to make sure that we are working with those that can pay. That's our strategy," said Zawodna-Bijoch at the beginning of the discussion.
CTP Invest manages and builds business parks throughout seven countries in Central and Eastern Europe. Over the past five years, the company doubled the size of its portfolio and plans call for continuous expansions. "The plan is to have 108 million square feet by 2023 and that means doubling the size of the portfolio," Vos said. "We are long-term investors. Roughly 95 percent of what we have built in the past 21 years is still in our ownership," he added.
Workspace provider HB Reavis is also very positive about the future. "We believe that even in this cycle, if we have very well-designed products, we will succeed," Matousek added.
Flexibility, flexibility, flexibility
As we seem to be coming to the end of an economic cycle and also, potentially, a real estate cycle, it is not yet clear if those two are going to be synchronized. This where flexibility steps in and starts having an increasing role, according to experts attending the panel. "Fifteen-year contracts don't exist anymore. Maybe only in London, a couple of them, but people and companies want more and more flexibility" said Matousek.
Javaher talked about a different way of insulating a business, by focusing on repeat customers. "Our tenants in the U.S. see what we produce with one building and they basically follow us and they take us to the next project, where we have the offerings that will allow them to expand," Javaher revealed. Given the economic environment right now, Lincoln Property's managing director advised that the most recession-resistant product is multifamily. "There's a chronic shortage of this type of products. However, the challenge there is that it's country-specific, it's culturally linked and ultimately, you need scale. It's all about scale," he added.
Adjusting to Brexit
Apart from an economic downturn, investors in Europe have a different concern. "Brexit is happening. There are several layers influencing the market related to Brexit. There is some uncertainty about how it will look like and how businesses will work. We can see some companies locating part of their services in other parts just to make sure that they have a passport to do the business later on. Some of the companies are using the opportunity to reshape their business," Zawodna-Bijoch noticed.
Skanska's CEO in Central and Eastern Europe revealed that due to the uncertainties related to Brexit, an increasing number of investors have started to push large amounts of capital in this area of the Old Continent. Moreover, in case of another wave of cost cuts, this part of Europe is still cheaper than the West.
Matousek also stressed that the short-term stress regarding Brexit can be beneficial. "I would replace the word "worries" with "opportunities". Just after the decision that the UK wants to leave the European Union, we made our biggest investment in the UK," he said. Vos also sees commercial opportunity in Brexit. "I see an opportunity there, I see change," he said.