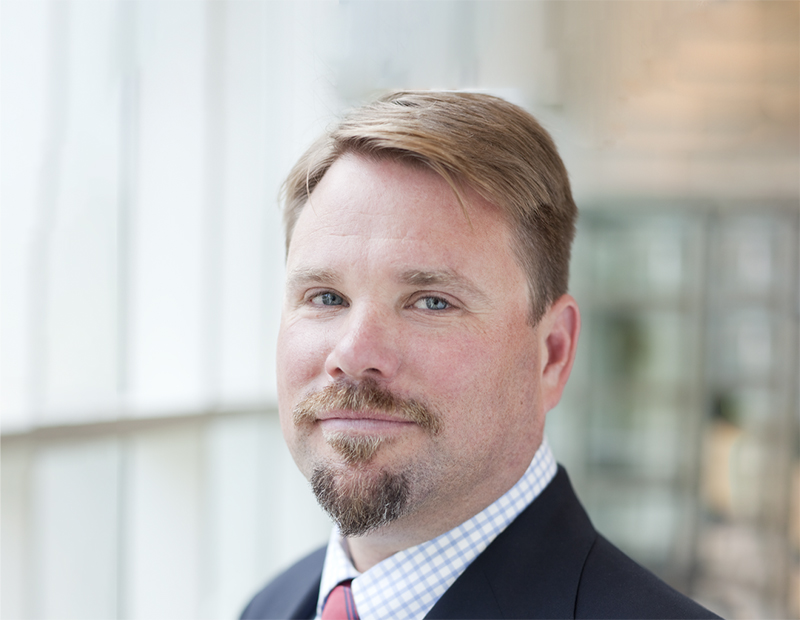 In 10 years since Michael Phillips joined Jamestown, the Atlanta and Cologne, Germany-based investment manager has grown from $3 billion in assets under management to $12 billion. This stunning leap in value can be attributed, at least in part, to the foresight of Phillips, now president, on groundbreaking adaptive reuse projects such as Ponce City Market, the $380 million redevelopment of the old Sears Tower in Atlanta, and the 1.2 million-square-foot Chelsea Market in New York City, which sold to Google in March 2018 for $2.4 billion. Phillips shares his views on what's next for Jamestown.
You've had an incredible run. What's next?
Phillips: We've been focused on America and now we're adding Europe to our field or focus areas. And that's pretty great and exciting. We've been working a lot in digital media, which has been really satisfying from a creative standpoint and honing our investment to our venture investing arm in a very kind of micro way, paying attention to businesses we can grow in our portfolio and companies that have strategic value to our real estate platform. So technology platforms are an investment that is making the bricks and mortar space more dynamic. But I think it's also disrupting office and residential in a really interesting way.
How so and are there specific platforms that you'd like to talk about?
Phillips: Uber is talking about an IPO, a potentially $120 billion valuation, which is double what it was months ago. I think many of the leading companies in the world today in terms of valuations are asset-lite companies—Alibaba, Amazon, Google, Airbnb. But they've created tremendous value through their ability to be marketplaces and connective tissue for people. I think we're seeing apps like Hello Alfred or HqO—that are reducing the friction of the experience for the residential tenant/dweller, in the case of Hello Alfred, or HQO, in the case of the office tenant—which are helping to bridge that kind of technological third space that companies like Uber and Airbnb are doing for ride sharing and house rental.
Anything measurable?
Phillips: Sure. We have had incredible engagements in our platforms in the office environment. As many as 65% of the workers in our buildings are using our app technology in some cases. We've seen collaborations with Reebok and Continuum, for example, Continuum Industrial Design Company designs a pump shoe design for Reebok. Or on a smaller scale, the company that needs headshots for their employees is going on the app and finding another tenant who is a photographer and art shop—they would have otherwise not known each other existed.
But technology not only reduces the need for retail space but also office, right?
Phillips: There's a piece of that, but I think online retailers are opening bricks and mortar spaces and they're only doing it where their heat maps are strong so the clearer relationship between online sales and in-store sales and the showroom experience are all very tightly linked.
The idea of omnichannel is important: We want more choice. We want more flexibility and we want more ways to engage with the things we consume in the world. I think it's the same thing with office. I think you have the WeWorks of the world that rent a seat or a desk. You have club memberships that are about loose associations and common seating, and then you have long-term contract rent at one extreme and everything in between. That is what the bricks and mortar space for office is about, or needs to be about.
The same thing with Airbnb, you know people say that when Airbnb started it was framed as the place for you to rent a room in somebody's house and now it's about renting luxury lodgings, houses, and in some cases, extended-stay living arrangements so everything in that range is now available to us. To me, there's not one or the other—it really is about omnichannel.
It's not right-sizing, it's more about perfecting…
Phillips: Yes, it's customization because no two of us want the same thing. We want an individual experience that fits us. And to me, it's the same thing that there's a reason why there's 35 different car companies or 200 different clothing designers because everybody has their own preferences—hundreds of different kinds of ways to cook chicken, so I think the power of the technology is to bring all of those choices into a place for a consumer. And the power of the real estate is to give it context and I think that's to me the marriage in the two.
Jamestown got out of the market in 2006 before the recession and earlier this year, you sold the Chelsea Market building to Google for $2.4 billion. At this point in the cycle, are you buying or selling?
Phillips: I think on balance, we're probably a net seller. I don't think it's as binary at the moment as 2007 was but I think that certainly our strategy has always sort of been the same. That, where we think that assets have still a lot of value to grow, we're not a seller. And where we think we have maximized their value for the cycle, we are a seller. There's not a one-size-fits-all answer to that but I think we are clearly—for the sort of things that we want to buy, it's a little more difficult these days as the market is more mature than it has been in the past. But we certainly continue to buy selectively.
Is there another huge adaptive reuse project such as Ponce City Market or Chelsea Market on your radar?
Phillips: There are not that many opportunities like that in the world, oddly enough, particularly in the U.S., to get things of scale that are well-located that don't have significant environmental hurdles or other issues. [However], we continue to look and are really optimistic. We're about to announce something in the next 90 days. And we just got our first project in Amsterdam, which is quite interesting. It's an old bicycle factory—not nearly as big as Ponce—but a great first toe in the water for us in the Netherlands. How appropriate that it's in the Netherlands and it's a bicycle factory.
How long does your vision take to evolve after you see an asset for the first time in its "raw" state?
Phillips: I tend to see things in their complete form when I see them the first time. That's not to say there's not an evolution of a design process or a flow, but studying how space works and how it connects seems to be something that is a native skill for me. I'd like to tell you that I didn't really see it, but I did. It was actually maybe all the more frustrating to have to wait three years to see it look the way I saw it in my head. I want to be able to snap my fingers and have it look exactly like I see it. But I think that's probably the product of growing up as a child of the era of the television show Bewitched—that I thought you could just snap your fingers and make it happen.
Any community service projects that you're passionate about at the moment?
Phillips: There's a community service project that I got really excited about in the past 24 hours. I spent a lot of time growing up in the Bahamas, [where] there's an orphanage called Ranfurly Home for Kids in Nassau. I saw a friend post that she was raising money to rebuild their garden [destroyed by Hurricane Michael], which is part of their sustenance to support this orphanage because they have such low funding. I immediately sent money electronically to support her efforts this weekend rebuilding their garden. I think to use social media on some level to crowdfund is a real statement of how technology is disrupting in a good way—that we can immediately respond and know.
Image courtesy of Jamestown