This article is one in a series of brief profiles of the winners of CPE's Executives of the Year awards. Now in its 19th year, the program recognizes the outstanding executives in commercial real estate's major business sectors and asset categories. Winners of first place and honorable mention awards are selected by confidential vote of the CPE 100, an invited group of industry leaders.
Today we meet an executive who is guiding the company through a watershed period in its history.
Stephen Furnary, Chairman & CEO, Clarion Partners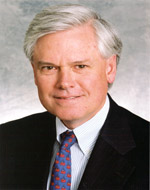 Office Property Executive of the Year
Headquarters: New York City
CEO since: 1982 (co-founder)
Previously: Executive vice president & partner, Lazard Realty Inc.
Clarion at a glance: Nearly $40 billion in assets managed for more than 280 domestic and international institutional investors.
Sea change: Clarion entered a new phase in January when it announced plans to become an affiliate of Legg Mason. The Baltimore-based investment management firm acquired Lightyear Capital's interest in the firm. Clarion's management will retain a 15 to 20 percent interest, and Furnary will continue as chairman & CEO.
Downtown trophy: Acquired 180 Maiden Lane, a 41-story, 1.2 million-square-foot office tower overlooking the East River in Manhattan's Financial District. Clarion's joint venture partner is MHP Real Estate Services.
Boston buy: On behalf of a separately managed account client, Clarion bought 100 Franklin Street, a 124,055-square-foot, nine-story Beaux Arts-style office building located in Boston's Financial District. Developed in 1908, 100 Franklin underwent a major renovation in 1998 and served as the headquarters for the Boston Stock Exchange.
Diverse interests: Led a group of investors in acquiring Gables Residential, the Atlanta-based multifamily specialist that manages more than 31,500 units and 400,000 square feet of retail properties.
Team effort: In a joint venture with New England Development, Clarion bought Palm Beach Outlets, a 460,000-square-foot retail center located on 60 acres in West Palm Beach, Fla. The seller, Palm Beach Mall Holdings L.L.C., comprised New England Development, Eastern Real Estate and Lubert-Adler.
New England Development will continue to handle development, leasing and management at the property, which opened in February 2014.