This article is one in a series of brief profiles of the winners of CPE's Executives of the Year awards. Now in its 19th year, the program recognizes the outstanding executives in commercial real estate's major business sectors and asset categories. Winners of first place and honorable mention awards  are selected by confidential vote of the CPE 100, an invited group of industry leaders.
Today we offer a snapshot of the longtime leader of the world's most powerful retail REIT and provide an update of recent company highlights.
David Simon, Chairman & CEO, Simon Property Group Inc.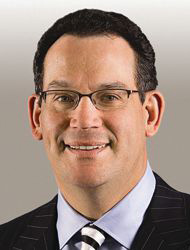 Retail Property Executive of the Year
Headquarters: Indianapolis
CEO since: 1995
Previous position: Company president (1993-1996).
High honors: Perennially voted CPE's top retail property executive, Simon was named one of the world's best-performing CEOs by Harvard Business Review in 2010, 2013 and 2014, and by Barron's in 2013. Institutional Investor picked him as the real estate industry's top executive four years in a row (2009-2012).
Pipeline news: At the end of the fourth quarter, Simon Properties had $2.1 billion worth of development and expansion projects underway at 29 properties in the U.S. and Europe.
New outlets: A prolific developer of outlet malls, Simon opened new properties in Tucson, Ariz., and Tampa, Fla., during the fourth quarter. Clarksburg Premium Outlets, a 392,000-square-foot center, is on track to open this fall in Clarksburg, Md. The company is also an active outlet developer beyond U.S. borders.
Simon and Ivanhoe Cambridge announced in January that they are teaming up on Premium Outlet Collection–Edmonton International Airport, a 428,000-square-foot center scheduled to open in the fall of 2017. And Simon owns a 50 percent stake in Siheung Premium Outlets, a 399,000-square-foot center in Siheung (Seoul), South Korea. That project is expected to open in April 2017.
Big deals: In July, the REIT completed a joint venture with Hudson Bay Co., North America's oldest company. Simon Properties' contributions include kicking in $178 million toward the acquisition of the Kaufhof Properties, a 40-property German portfolio.
Teamwork: Simon Properties is joining forces with Whitman Family Development to co-develop the 500,000-square-foot retail portion of Brickell City Centre in Downtown Miami. Swire Properties Inc. is master developer of the $1 billion, 5.4 million-square-foot mixed-use project.