This article is one in a series of brief profiles of the winners of CPE's Executives of the Year awards. Now in its 19th year, the program recognizes the outstanding executives in commercial real estate's major business sectors and asset categories. Winners of first place and honorable mention awards are selected by confidential vote of the CPE 100, an invited group of industry leaders.
Today we offer a snapshot of the longtime leader of a leading multifamily REIT and provide an update on recent company highlights.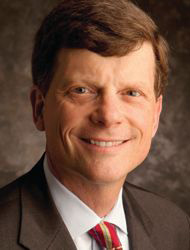 David Neithercut, President & CEO
Equity Residential 
Multifamily Property Executive of the Year 
Headquarters: Chicago
Years with Equity Residential: 21
CEO since: 2006
Previous company: Equity Group Investments L.L.C.
Equity Residential at a glance: Owns or has investments in 316 properties and 85,391 units, primarily in Boston, New York City, Washington, D.C., Southern California, San Francisco and Seattle.
As of January 31, 2016, Equity Residential owned or had stakes in 316 properties consisting of 85,391 units. Its primary markets are Boston, New York, Washington DC, Seattle, San Francisco and Southern California.
Streamlining strategy: As part of a drive to streamline its portfolio and dispose of suburban and non-core assets, on Jan. 27 Equity Residential closed on the sale of a 72-property, 23,262-unit portfolio to Starwood Capital Group for $5.4 billion. As a result of the sale, Equity Residential exited the Denver and South Florida markets.
Also included in the portfolio are properties in Washington, D.C., Seattle and Southern California's Inland Empire. Proceeds will be allotted toward a special dividend to be issued in the second quarter of 2016.
On the horizon: Equity Residential plans to continue streamlining its portfolio in 2016 by selling another $700 million worth of assets, including 26 communities comprising 4,728 units in multiple submarkets. The expected dispositions will mark the company's exit from Connecticut and from non-core markets in Massachusetts.
Building blocks: As of Dec. 31, Equity Residential's development pipeline comprised 3,989 units in California, Seattle and Washington, D.C. The projects represent an investment of nearly $2 billion.