FPL Finds Growing Hiring Need, Continued Positive Trajectory for Compensation
Hiring: Still Strong—But Will It Fall Off the Fiscal Cliff?
By William Ferguson, Co-Chairman & Co-CEO, FPL Advisory Group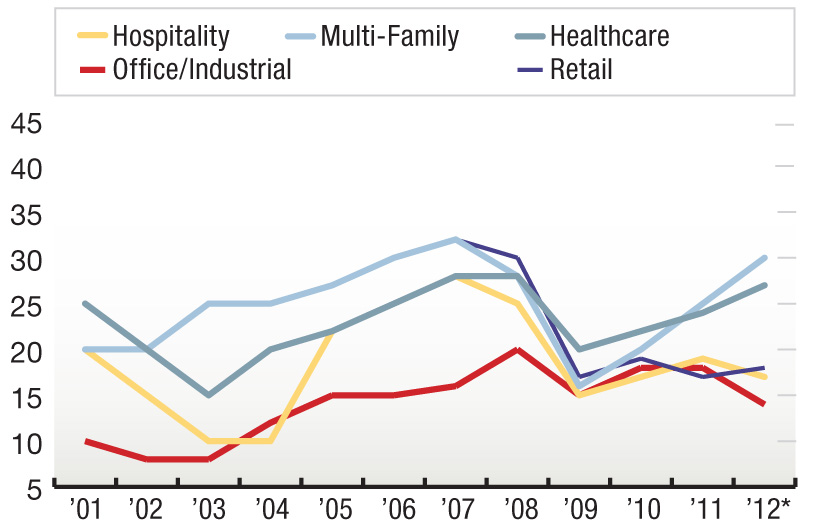 As 2012 progressed, the real estate industry gained momentum, albeit on an incremental basis. Global investors continued to prefer the United States, given the perceived stability and (slow) growth. Interestingly, hiring was more robust in Europe than might be the popular perception, as investors prepared to pursue the disposition of troubled assets. And while Asia experienced its own challenges, from slower growth in China to the economic troubles experienced by Japan, investment managers continued to source strong pan-Asian leadership to prudently deploy and manage institutional capital in the fastest-growing part of the world.

Underwriting in the Americas
Canada's real estate economy continues to be strong, even though there are some concerns about condominium development in Toronto. For example, many U.S. retailers are trying to penetrate the Canadian marketplace. Even if there is a slowdown, it will be modest on a relative basis. Unlike the rest of the world, Canadians know how to underwrite risk, and their banking system has never been fooled into the vortex of overleverage. And Canada's pension funds, which are extraordinarily well capitalized, are active investors on a global basis.
Latin America, and specifically Brazil, has continued to attract equity capital, replacing the traditional European investors with Asian, U.S. and Canadian capital. Brazil's growing middle class represents a wonderful economic opportunity.
In the United States, those firms that are well capitalized are most actively growing their businesses. This includes the real estate investment managers as well as the REITs. The global real estate investment managers, which offer multiple product investment opportunities ranging from REIT securities to debt investments and infrastructure, continue to be awarded fresh institutional capital. As investors go global, REIT securities managers represent a viable alternative. The big investment managers are growing larger, and the boutiques are competing in their respective niches, with those in the middle at risk (having purchased aggressively in 2007, utilizing leverage and structure).
The functional demand among the REIMs is reasonably consistent. Succession continues to be at the top of the list, and the next generation of leadership needs to embody outstanding strategic, investor relations and investment capabilities. Client-facing executives, including capital raising and portfolio management, have been in significant demand. And there has been more demand lately for acquisitions people, who can source off-market transactions versus buying assets at auction. The core/core-plus/value-add investors have been the recipients of new capital allocations. The private equity firms, short of The Blackstone Group and Lonestar Funds, have been challenged to raise new capital.
Among the REITs, there has been a tremendous amount of board recruitment activity as the current generation of board members retires. CEO succession has also been a priority, as leadership change, especially among the founders, has been inevitable. Other leadership roles continue to be in high demand, whether they be COOs, CFOs or heads of investment.
From a commercial property perspective, demand has been most significant in multi-family and healthcare. Interestingly, development professionals are being hired in the multi-family sector, despite talk of an impending construction slowdown there. Demand in the other property sectors—office, industrial, retail and hospitality—is driven either by location (with more demand on the coasts) or the capital strength of the sponsor.
As it relates to other sectors, there is starting to be more activity in the homebuilding space, especially at the leadership levels. A number of private equity firms have also entered the single-family rental business. Brokerage firms are adding to their investment sales and corporate real estate outsourcing ranks. And the debt space has picked up some momentum, beyond the active lenders like banks and insurance companies. For instance, there appears to be more demand for conduit lenders, given the current interest-rate environment.
On the other hand, demand for corporate real estate executives continues to diminish as more companies, both public and private, outsource their real estate activities. The construction and engineering sector likewise continues to be reasonably slow, except for those firms focused on global infrastructure projects.
Europe's Improving Sentiment
In Europe, the general market sentiment has certainly improved in the last 12 months, even if fundamentals are still giving cause for concern. Hiring for growth rather than purely for replacement is back on the agenda for the first time in five years, and a cautious improvement in overall remuneration is the general trend for most real estate businesses.
The clear trend is centered around debt, incorporating distressed loan/asset acquisitions; provision of debt by alternative lenders such as insurance companies, mezzanine players or senior debt funds; and the creation or expansion of loan servicing platforms. The United Kingdom, Germany and France are the most active markets, in that order, with a number of sovereign wealth funds, high-net-worth individuals and international pension plans looking for transparency and low-risk returns during the continued volatility of the Euro crisis.
As banks recapitalize and start to unload assets and portfolios in increasing volume, a number of new entrants have arrived in Europe, including KKR, TPG, Brookfield (which has strengthened its investment management business), PIMCO and Baupost. The hiring climate for 2013 is one of conservative optimism, with an anticipated net increase of approximately 5 percent across the industry.
Recruiting in Asia
In Asia, there has been a pick-up in recruitment activity at two levels. First, there has been a change of leadership at the platform level, driven by either succession planning or a need for a different skill set to lead and guide the platform in a new direction. This does not apply only to CEOs; companies have also been focused on bringing in senior fund-raising executives to help access investors at a more regional level.
Second, companies are upgrading opportunistically at more junior levels as platforms continue to rightsize. Hiring continues to be strategic rather than growth oriented, with only a handful of firms in growth mode as a result of a niche strategy and track record that has produced a successful fund raise (the exception rather than the norm).
The clear trend is centered around the redirection of capital into the more stable, transparent markets for income-producing assets, with only a handful of players able to stay active across the capital structure in the opportunistic space.
The hiring sentiment for 2013 is one of cautious optimism, with the gap between the winners and losers continuing to drive consolidation in the real estate space.
Compensation: The Positive Direction Continues
By Jeremy I. Banoff, Senior Managing Director, FPL Associates L.P.
The real estate industry, in particular the public marketplace, has fared quite well compared to other asset classes, despite macroeconomic indicators and broader economic challenges. As of Dec. 1, public REITs were on pace to set a third consecutive year of record capital raising, which among other things has allowed companies to access (cheap) capital, bolster balance sheets and deliver double-digit total returns for the third time in four years.
Further, 2012 continues the now fourth year of positive trajectory since the financial crisis and is still outpacing performance across all other broader market indices. Of course, certain sectors within real estate have fared better than others, but overall, many have characterized the access to capital by public companies as unprecedented.
Private real estate firms have ridden their public brethren's coattails, but in a much more fragmented sense. Real estate investment managers and core products have been in demand, whereas aside from a handful of private equity firms up the risk spectrum, most have faced challenges in capital raising and successful placement of capital.
This sets the stage for compensation trends reflecting 2012 performance. Last year, we witnessed all-time-high payouts in the public REIT marketplace, which not only took into account performance year 2011's gains and relative outperformance but perhaps moreover the culmination of three straight years of success and relative outperformance. Rather surprisingly, salaries among real estate executives increased by 10 percent, on average, between 2011 and 2012, which will certainly have an impact on going-forward compensation opportunities (actual payouts year to year will of course still be largely predicated on performance).
FPL's exclusive Year-End Real Estate Executive Compensation Trends Pulse Survey, conducted in November and reflective of more than 100 leading public and private real estate firms, suggests that salary increases will be much more aligned with broader market trends of approximately 3 percent with respect to 2013. On the public side, we expect that bonuses, both cash and equity, will generally be "above target" levels and reflect increases of 5 to 10 percent, on average (off of last year's all-time-high payouts), given the previously mentioned performance, though lower-performing companies can expect to see double-digit declines in compensation year over year. Interestingly enough, 83 percent of participants state that fiscal year 2012 reflects better performance compared to fiscal year 2011 (of which nearly 10 percent indicate that fiscal year 2012 is the company's best year ever).
Nearly twice as many private real estate companies expect bonuses to increase year-over-year versus those that anticipate declines. It is worth noting that while public firms generally expect increases over last year's all-time payouts, the increases expected in the private real estate sector are off of average levels seen in the past few years. Pending a firm's asset focus, market presence, scalability and ultimately performance, compensation payouts may increase or decrease at levels greater than those mentioned herein.
Public entities remain under scrutiny in terms of compensation practices in light of Say-on-Pay, which marked its second year in existence in the United States. Three REITs failed their Say-on-Pay vote (just over 50 public companies out of several thousand failed in 2012), meaning more than 50 percent of their shareholders voted against their executive compensation program (in a generic sense). One of the firms has been involved in a public lawsuit, defending its compensation practices, while another is one of only a handful of companies that failed Say-on-Pay in both 2011 and 2012. Proxy advisory firms such as Institutional Shareholder Services (ISS) and Glass Lewis continue to exert pressure and encourage firms to conform to best practices, though due to REITs' longer-term business model, many have already implemented longer-term pay-for-performance programs, which are now considered best practices.
That said, we have assisted many companies, much more so than usual, with redesigning the structure of their pay programs in light of market forces but also to account for strategic endeavors resulting from today's evolving marketplace and to ensure alignment with longer-term goals specific to a company's strategic plan. The most contentious compensation-related items, as viewed by proxy advisory firms and the media alike, are often found in the structuring of employment agreements or termination-based pay in broader severance-based arrangements.
Private firms, which are somewhat immune to the public scrutiny and Say-on-Pay, have also revamped their programs, since previously granted awards may not fund (pending when such awards were granted). As competition for the top 5 to 10 percent of executives heats up, retention plays an increasingly important role. Succession planning, particularly in the private universe, has also impacted compensation at the executive level, especially in instances where a company has looked to the outside to bring in talent.
Lucrative sign-on grants and participation rights are once again the norm (as opposed to just a couple of years ago). And while most consider succession planning at the executive level to be of utmost importance, many organizations are looking at the mid-level ranks (between five and eight years of experience) to distinguish and project the next-generation leadership, oftentimes providing a taste of ownership and equity participation both as a retention element and to offer a glimpse of what is potentially to come in the longer term.
While macroeconomic factors indicate that we are still in a relatively challenging period, the U.S. real estate industry, particularly the public markets and certain aspects of the private sector, has now consistently flourished. As pay-for-performance has evolved—and in fact accelerated in recent years—compensation payouts will likely follow. We will see whether such performance can be sustained into 2013 and beyond. If anything, compensation is likely to follow suit.