December 20, 2011
By Nicholas Ziegler, News Editor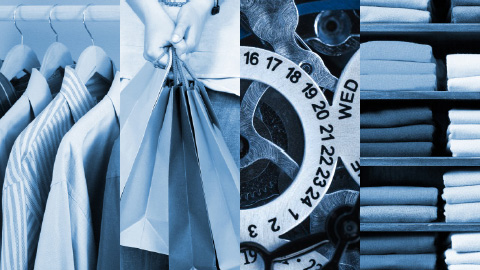 Cushman & Wakefield Inc. is set to release its 2012 retail outlook tomorrow, and despite some of the economic setbacks the world economy faced in 2011, U.S. consumers are still remaining resilient in the face of strong economic headwinds. Although same-store retail sales increased by only 3.7 perent in October, its smallest increase since March, the recent back-to-school spending season was declared by some observers to be the strongest since 2006. And, the holiday season, which can account for as much as 20 to 40 percent of a retailer's total annual sales, is shaping up to be strong as well, as the weekend bookended by Black Friday and Cyber Monday set both traffic and sales records.
"The interesting thing about the size of Black Friday sales was that people were getting shopping done early with doorbuster sales," Matt Winn, head of U.S. retail services for Cushman, told Commercial Property Executive. "That plays into our 'barbell of prosperity' where people are shopping at both the top end as well as at the low end [of the market]"
The "barbell of prosperity" Winn mentioned was one of Cushman's 12 trends that will shape our economic future going into 2012. "Retailing" the report notes, "is in the midst of a generational shift that … perpetuate the ongoing bifurcation of the retail market." In other words, the gap between high- and low-income households is continuing to grow along the Gini index – where 0 represents exactly-equal income and 100 represents one person having all the income. The index sat at 39.7 in 1967, but rose to 46.9 in 2010. The result, Winn says, "is a generational shift. You're going to have an entire group of consumers who think of value. While this might not be as extreme as it was after the Great Depression, you're still training a group of consumers to look for value as their first screen."
And this search for value is a key part of another trend Cushman describes. Consultancy Booz & Co. have termed consumers who knowingly spend less on non-essential items, purchasing lower-cost brands, as "spend shifters." More than half – 55 percent – of Americans are now trading down, according to a 2011 Booz study, meaning this change is a structural shift in the way consumers approach their purchasing habits. Retail outlet stores, for example, are in a good place to grow if this particular demographic continues to search for value.
One of the other points in the report noted that big-box retailers, such as Office Depot, are working to shrink their footprints. In 2004, the store began rolling out 17,500-square-foot stores, down a third from the previous standard. By spring 2011, half of Office Depot locations were the smaller size, lowering by $1 million the yearly sales volume needed to break even. "Shrinking footprints means the big boxes are getting smaller in their urban locations," Winn says. "But, conversely, you have the new [Japanese clothing retailer] Uniqlo 90,000 square foot concept store maximizing exposure in a new market."
"In a way," Winn explains, "the suburban store" – the shrinking big-box retailer – "becomes the fulfillment of what you're sold in the urban environment."
Cushman's 12 trends for 2012 continue:
1. Global Political Events. Just as the U.S. and the European Union are struggling to find ways to pay debts and to raise new sources of capital, the U.S. consumer is doing the same – meaning retail spend will likely be muted.
2. U.S. Presidential Election. The race for the White House will intensify, and will likely hinge on the issues of employment and taxation. With the stagnation in Washington, the figure of 9 percent unemployment may stand for quite a while.
3. Inflation. The rising costs of raw materials and consumer goods – as well as gasoline – will see annualized CPI growth continue. But the question remains: Will retailers absorb costs or pass them along to consumers?
4. Demographic Diversity. The U.S. population is aging appreciably, and Hispanics are quickly becoming a larger percentage of the country. These trends will continue to shape retailing and real estate.
5. Return to Urban Cores. The nation's "return to the city" trend will likely continue in 2012, meaning urban fill-ins will comprise a sizable portion of the new construction pipeline.
6. The "Barbell of Prosperity." Described above, but the two more successful retail sectors in 2011 were both luxury stores – up 8.5 percent year-over-year in August – performance that was actually eclipsed by wholesale clubs such as Costco.
7. Spend Shift and the Rise of Outlets. Again described above, but retail outlets across the country reached record sales of $482 per square foot in 2010, according to a Cushman study.
8. Mobile Commerce, Facebook and Transparency. Retail delivery strategies will continue to change as purchasing habits evolve. It is estimated that, by 2013, more than half of consumers will use smartphones to assist with in-store purchases.
9. Pop-Up Stores. For some retailers, such as Toys R Us, pop-ups are a way to meet seasonal demand; for others, they increase brand visibility without a huge investment in a flagship store.
10. Shopping as an Event. Stores are now making their shopping experiences mean something by adding enticing elements to their in-store experiences: Hollister stores have video walls. Nike and Apple combine distribution with retail stores.
11. Shrinking Footprints and the Reuse of the Big Box. Even before the recession, stores were shrinking in size. In 2004, the average Best Buy generally occupied 45,000 square feet. In 2011, however, two-thirds of the 90 stores opened were smaller than 30,000 square feet.
12. A Focus on Core Markets. Strong metro areas, and the high-rent shopping streets in gateway cities, will continue to drive strong demand and strong sales.