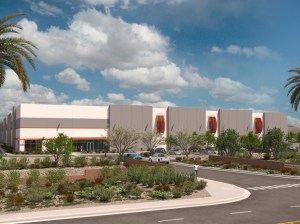 Meyer Burger Technology AG will enter the U.S. manufacturing market with a high-performance solar module production facility in Goodyear, Ariz. To that end, the Switzerland-based firm leased Goodyear Airport 85, a 276,000-square-foot building owned by CIM Group, according to the Phoenix Business Journal. On-site production is slated to begin by the end of 2022.
With an initial annual production capacity of 400 megawatts, the facility will produce solar modules for residential, commercial and utility scale applications. Production will initially require a total of 250 skilled workers; at full 1.5-gigawatt capacity, the factory will employ more than 500 people.
Meyer Burger has chosen Goodyear for the establishment of its first manufacturing facility outside of Europe following a site selection process that began in September. The production firm ultimately selected the Arizona location due to the area's diversified and talented workforce, proximity to customers and strong partnerships with local authorities.
Near Phoenix Goodyear Airport
Goodyear Airport 85 was completed earlier this year on an 18-acre site at 1685 S. Litchfield Road, in the Phoenix West submarket. The Opus Group developed the spec industrial building that features a 36-foot maximum clear height, 190-foot truck court and ESFR sprinklers. CIM Group acquired the asset in December for $36 million, according to public records.
The property is some 19 miles east of downtown Phoenix and less than 1 mile south of downtown Goodyear, just east of Phoenix-Goodyear Airport. The location is also a few steps away from another CIM Group asset, a 450,600-square-foot industrial building the firm also purchased from The Opus Group.
A haven for manufacturing activities
Mayor of Goodyear Joe Pizzillo said in a prepared statement that Meyer Burger's choice to invest in Goodyear is a testament to the city's highly skilled workforce, modern infrastructure and low cost of doing business.
Over time, the area's business-friendly environment has attracted big brands such as General Motors, PepsiCo and Henkel, which established their manufacturing operations in the city.
In fact, companies that choose to expand their operations to Goodyear benefit from three manufacturing corridors: Loop 303, GYR Airport and Cotton Lane/MC-85. Additionally, the area features a large variety of industrial campuses with shovel-ready sites.
One of these campuses, a recent addition on the metro's industrial map, is the 585-acre Goodyear AirPark. The joint venture of Lincoln Property Co. and Harvard Investments acquired the development site in September, planning to break ground on the project's first phase in the first quarter of 2022. At full build-out, the park will encompass as much as 7 million square feet of space across 20 buildings.