By Tudor Scolca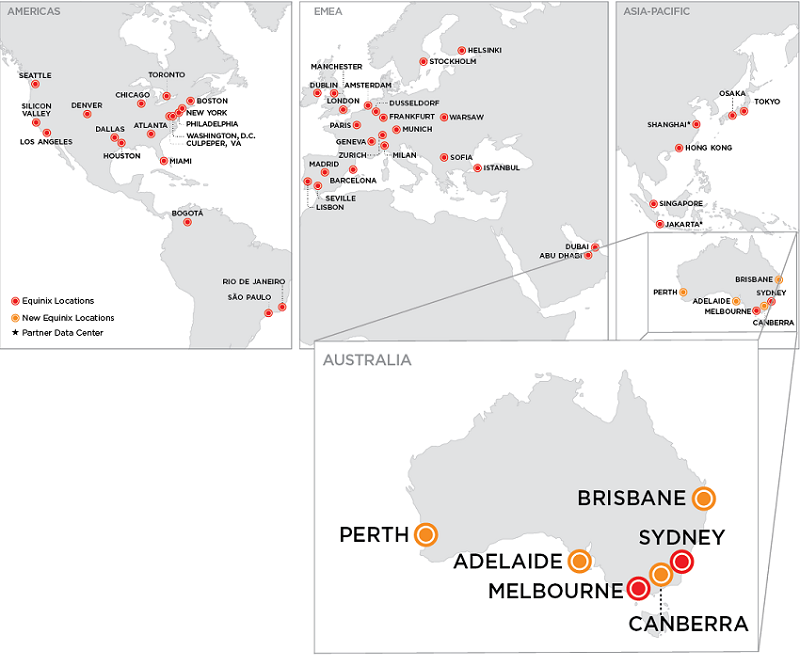 Equinix has entered a definitive agreement with Ontario Teachers' Pension Plan to acquire its equity interests in Metronode, an Australian data center business. The all-cash transaction is valued at $792 million and is expected to close in the first quarter of 2018. It is subject to some closing conditions and pending regulatory approval.
With the acquisition of Metronode, Equinix will add 10 more data centers to its Australian portfolio, situated across six metropolitan areas. The company already has four International Business Exchange (IBX) facilities in Sydney and one in Melbourne. They will be complemented by two new ones in Melbourne, three in the Sydney metropolitan area, two in Perth and one each in Canberra, Adelaide and Brisbane.
In total, the company will have approximately 215,278 square feet of new colocation space across all 10 Metronode facilities. Additionally, the sale involves approximately 861,112 square feet of land, upon which Equinix plans to build new facilities and expand existing ones.
"As well as expanding our national footprint with Metronode's existing sites, this acquisition also enables us to build out sites that are currently in development to further expand our presence in Australia. This will enable us to continue to deliver the level of excellence and interconnection that our customers expect, and signifies our commitment to the region in supporting the growth of digital businesses. We look forward to welcoming the Metronode team into the Equinix family," said Jeremy Deutsch, managing director for Equinix Australia, in a prepared statement.
Previous arrangements
In 2013, Ontario Teachers' Pension Plan acquired a 70 percent stake in CIMIC Group's (previously known as Leighton Holdings) telecommunications assets, including Metronode and Nextgen Networks. The sale price was $885 million. By 2016, the Canadian fund had increased its stake to full ownership, while also investing approximately $230 million in expansion and construction of new facilities. Subsequently, Metronode's fitted capacity increased to 21 megawatts.
This year was a busy one for the data center giant. Prior to making the deal with Ontario Teachers' Pension Fund, Equinix rolled out its $1 billion, non-recurring capital expenditure expansion program. It involved opening five new IBX data centers and 14 expansions to existing facilities. Among its largest investments is also the acquisition of 29 Verizon data centers, a transaction which commanded $3.6 billion.
Aiming for global reach
The company's newly added Perth data center, on the West coast of Australia, is the selected housing site for Vocus Group Ltd. and Alcatel Submarine Networks' new subsea cable—the ASC. Measuring approximately 2,858 miles, the four-pair fibre network will link Australia to Singapore and Indonesia, delivering a minimum of 40Tbps capacity and an expected 30 percent reduction in latency. The two companies building it have completed contractual and technical prerequisites and have started manufacturing the cable, which is slated for completion in July 2018.
The Sydney data center is also the site of another subsea cable, the Hawaiki Submarine Cable, which will connect Australia, New Zealand, American Samoa, Hawaii and the continental U.S. Slated for completion in June 2018, it will provide 43Tbps capacity. The other end of the cable will connect to a newly-expanded Peak 10 + ViaWest data center in Hillsboro, Ore.
Equinix will have more than 40 data centers in the Asia-Pacific region after it will close the deal. Its global footprint will reach 200 data centers across 52 markets worldwide. "The acquisition of Metronode helps Equinix to accelerate the expansion of our global footprint and support our customers in the region as they move their infrastructure to the edge, closer to their customers and partners," said Samuel Lee, president of Equinix Asia-Pacific, in a prepared statement.
Image courtesy of Equinix