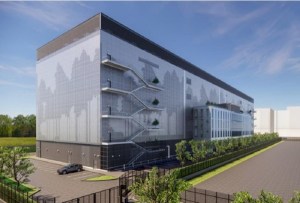 Equinix Inc. has announced it will enter additional joint ventures, in the form of limited liability partnerships with GIC, Singapore's sovereign wealth fund, to expand investment into its global portfolio of xScale facilities. An additional $3.9 billion will be poured into 32 data centers over the course of the program.
Equinix launched the xScale data centers development program two years ago and this March announced it has committed $3 billion so far with the help of joint venture partnerships with GIC. With the latest addition, the total investment exceeds $6.9 billion. Equinix estimates it will deploy 600 MW upon full build-out, across facilities spanning three regions: Europe, Asia-Pacific and the Americas. GIC will own an 80 percent equity interest in the future joint ventures, while Equinix will own the remaining 20 percent.
The global provider's xScale data centers are purposefully built to suit the needs of a targeted group of hyperscale customers. These include the largest cloud service providers, Alibaba Cloud, Amazon Web Services, Google Cloud, IBM Cloud, Microsoft Azure and Oracle Cloud Infrastructure, which partnered with Equinix to leverage its global platform of more than 220 data centers to directly connect to their strategic business partners and customers, noted Equinix CEO Charles Meyers in a prepared statement.
Worldwide expansion
In an interview with Commercial Property Executive, Equinix's President for the Americas, Jon Lin, noted that the company will continue to press its advantage in major metros, while also extending its global scale. In 2020, the company completed acquisitions to enter Mexico. This year, he added, is well-positioned to benefit from accelerating digital demand trends.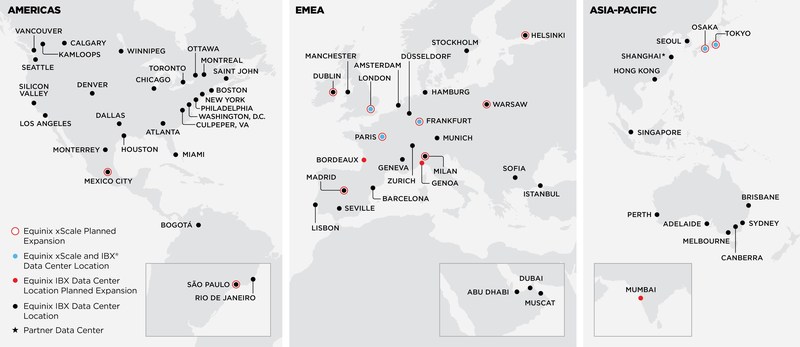 In Europe, Equinix will add xScale facilities in the following metros:
Three xScale data centers in Dublin
Five xScale data centers in Frankfurt, Germany
One xScale data center in Helsinki
Two xScale data centers in London
Two xScale data centers in Madrid
One xScale data center in Milan
Four xScale data centers in Paris
One xScale data center in Warsaw, Poland
In the Asia-Pacific region, the company will add three xScale data centers in Osaka, Japan, and three in Tokyo. In the Americas, Equinix expects to build an xScale facility in Mexico City and three such data centers in Sao Paulo.
In addition, three more sites will be announced at a later date. Equinix expects to build all xScale facilities to meet LEED certifications or regional equivalent certifications. The global provider has a long-term goal to reach 100 percent clean and renewable energy.