By Laura Calugar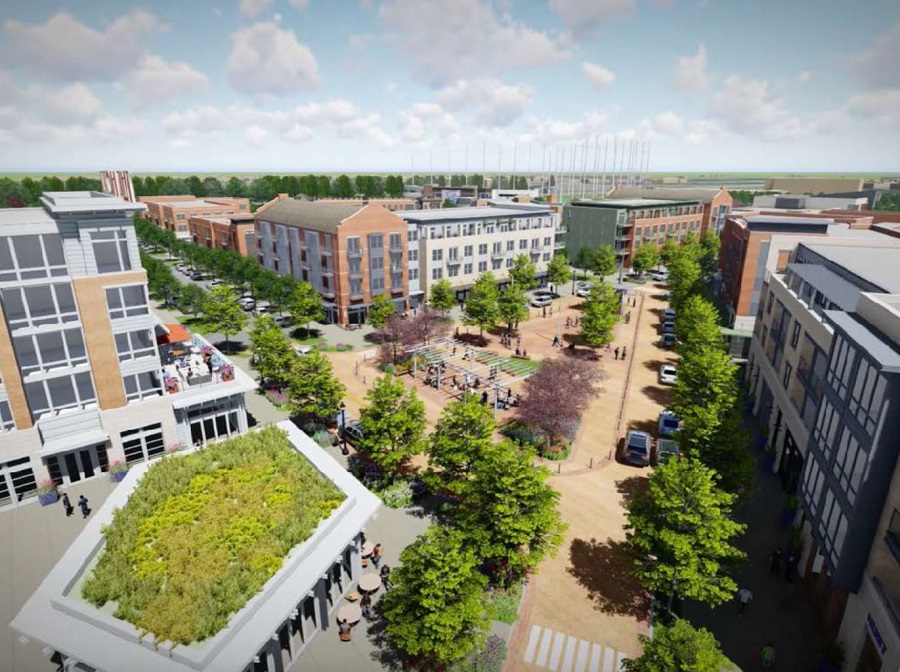 Following the demolition of the former Madison Square Mall in Huntsville, Ala., RCP Cos. is in full pursuit of the $350 million redevelopment at the 140-acre site. Spanning 53,000 square feet, Topgolf is the first tenant of MidCity, the fourth largest project currently under construction in the U.S.
Located at the northwest corner of the site, Topgolf includes golfing games for all ages and skill levels with advanced technology to track every player's shot. The three-level facility includes 72 climate-controlled hitting bays that can host up to six players at one time and private event space.
Miniature city
MidCity is situated at the intersection of two of Huntsville's primary commercial corridors—University Drive and Research Park Boulevard—and includes:
345,000 square feet of street-level retail
200,000 square feet of office space
500 hotel rooms
900 residences
"Our intention with MidCity is to create an authentic ecosystem that inspires social interaction, celebrates our regional culture and provides residents and visitors opportunities to share memorable experiences in a vibrant, energetic place," said RCP Cos. Co-Founder Max Grelier, in a prepared statement.
CityCentre, a $100 million, mixed-use development, and Merchants Square, a 45,000-square foot, second phase of the Whole Foods-anchored Shops at Merchants Walk, are also among RCP's three active developments in Huntsville. Other companies have also decided to invest here. Last year, Watkins Real Estate Group broke ground on The Pinnacle at Providence, a grocery-anchored neighborhood retail center.
According to the U.S. Census Bureau, Huntsville accounts for 24 percent of the state's 10-year population growth and is expected to be Alabama's largest city by 2025. Since 2001, the city has added more than 39,000 net new jobs. Approximately 100,000 vehicles travel University Drive and Research Park Boulevard daily.
Rendering courtesy of RCP Cos.