By Barbra Murray, Contributing Editor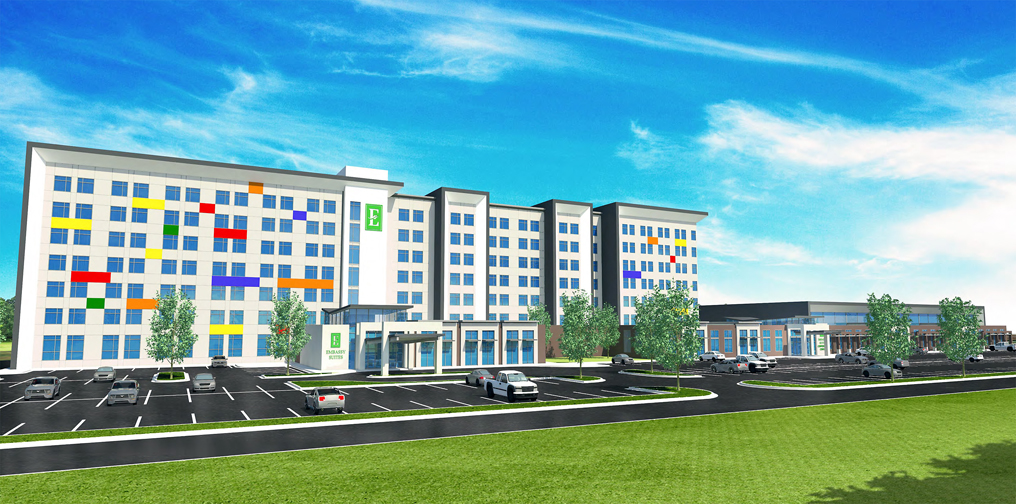 Indianapolis—The very first full-service hotel in the suburban Indianapolis city of Noblesville, Ind., will soon sprout up now that Sun Development & Management Corp. has broken ground on the Embassy Suites by Hilton Indianapolis/Noblesville. The hotel will add 192 guest suites and meeting space to a market that's growing hungrier and hungrier for accommodations.
The seven-story Embassy Suites property will be erected on a 15-acre site on Tegler Drive at Olio Road. Comprising approximately 190,000 square feet, the hotel will also feature a premier conference center offering 21,000 square feet of meeting and function space.
"The Interstate 69 Northeast corridor, while it has grown by leaps and bounds over the last 10 years, is the only one that lacks a full-service conference center hotel," Bharat Patel, CEO of Sun Development & Management, said in a prepared statement announcing the project last year. "Noblesville and Northeast Indianapolis is an ideal location to fill this void given this tremendous growth and anticipated future growth of the metro area."
It's all about location. Noblesville is the county seat of Hamilton County, where the gratification of record tourism growth in 2015 was tempered only by an undersupply of guestrooms, according to a report by Hamilton County Tourism Inc. With a location just 25 miles north of Indianapolis, Noblesville is also benefiting from rising visitation to the capital of the Hoosier State. Indianapolis experienced record-breaking numbers in both business and leisure tourism in 2015, per a study by Visit Indy, the city's official destination-marketing organization.
Sun Development is not the only builder that hears the increasingly loud cry for lodging in Hamilton County. New hotels are popping up and others are being planned. Local officials, however, are undaunted by any notion of oversupply. As noted in the Hamilton County report, "All key performance indicators point to continued record growth and the ability to absorb the 10 percent in new rooms that will come on line in 2016."
Sun Development's Embassy Suites is on target to welcome its first guests in late 2017. The property will mark the third Embassy Suites-branded hotel in Indiana.