By Ariela Moraru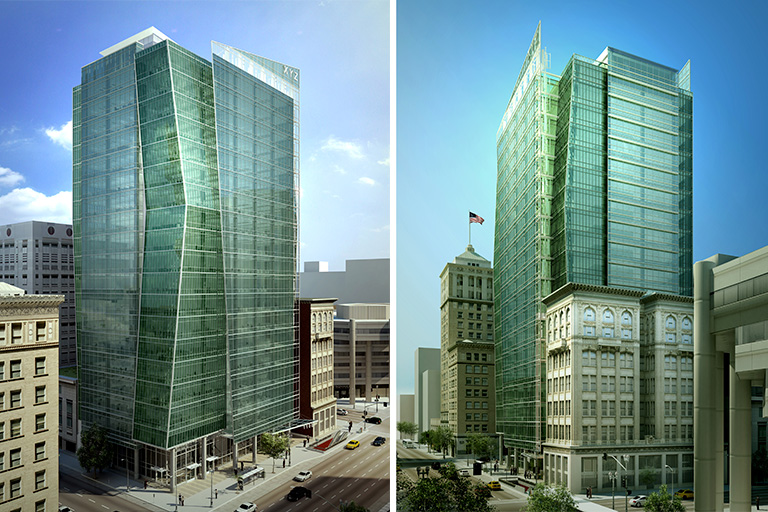 San Francisco—A joint venture between Ellis Partners and Intercontinental Real Estate Corp., facilitated by Eastdil Secured, acquired the vacant parcel at 1100 Broadway in Oakland, Calif., from a partnership operated by SKS. The lot includes the dilapidated seven-floor 34,000-square-foot Key System building. The new ownership plans to revamp the 1911 building and integrate it with a newly built Class A office tower, scheduled to break ground this year.
JLL's Capital Markets team of Michel Seifer, Rob Hielscher and Erik Hanson brokered the transaction. According to sources cited by The Registry, the lot sold for a price between $9 million and $10 million while the initial asking price was $12 million. Sources have also confirmed that the developer has secured a long-term tenant, the University of California's Office of the President, for a minimum of 130,000 square feet in the lower floors of the new tower.
SKS purchased the lot and vacant building in 2008 and commissioned KMD Architects to design the 20-story tower, which was approved by the Oakland Planning Commission the same year. The new ownership has hired Gensler to redesign the currently approved building on the site. The site's zoning allows for a tower of up to 420,000 square feet although the current plan is to revise the existing plans more in line with the previously approved 320,000-square-foot building. The ownership plans to break ground late this year and open the building in 2019. Chris Roeder, Sam Swan and Jon Elder of JLL will lead the leasing efforts for the new property.
"This kind of space is especially valuable in today's marketplace.  Employees and employers want Class A space that is transit friendly, modern, green, and inclusive of modern amenities," said Will Miller, senior vice president for Ellis Partners, in prepared remarks.
Demand for Class A office space in the area remains high. The new development sits right on top of the 12th Street/City Center BART station, which is the primary transfer point for the system.
Rendering courtesy of KMD Architects