January 24, 2011
By Barbra Murray, Contributing Editor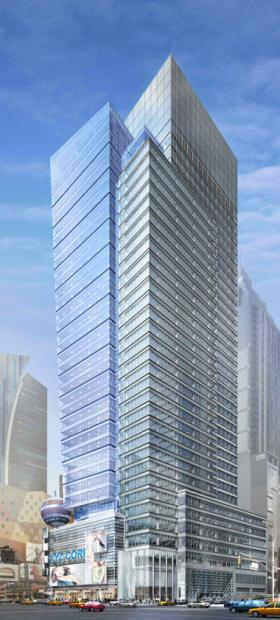 Proskauer Rose L.L.P. is settling into is new digs at 11 Times Square, the brand new 1.1 million-square-foot office and retail building developed by SJP Properties in New York City. The international law firm signed on for 400,000 square feet at the building last spring in a transaction that, at the time, marked the largest office relocation transaction in Midtown Manhattan in over two years.
The last segment of the 30-year-old Times Square redevelopment initiative, 11 Times Square is a 40-story tower that, in addition to its premier office space, features 55,000 square feet of retail space on three levels. Having maintained its headquarters in New York City since it first opened its doors in 1875, Proskauer was committed to staying in its longtime hometown and conducted an extensive search for the right accommodations. It turned out to be a challenging search despite the fact that office vacancies were at a high. "It's amazing that even in this economy, if you need 400,000 square feet of contiguous space in Midtown, you're very limited," Ronald D. Sernau, co-chair of the firm's real estate department, told CPE. "We loved 11 Times Square because of the fact that it had 400,000 square feet of newly constructed space and significant expansion options."
But it was more than just space and expansion options that sealed the deal. 11 Times Square is LEED Gold certified by the U.S. Green Building Council. The FXFOWLE Architects-designed property, 14 floors of which Proskauer claims as its own, encompasses state-of-the-art green technology, an advanced air filtration and ventilation system and such energy-saving features as a high-performance glass curtain wall exterior that reduces heat gain and provides significant natural light.
Securing a sustainable office environment was near the top of the company's list. "It's important for the environment, for recruitment and for clients," Sernau said. "Some clients say they will only work with firms that are doing everything they can for the environment. Law firms compete in a marginal way; it's hard to prove their better than the others except around the fringes. So if we can show that we're more environmentally friendly than our competitors, then that might be the little bit we need to get the client. Also, it's the right thing to do."
As for the impact on employees, the change is palpable. "As a real estate person, it's cool to see how space can energize them." The floor-to-ceiling windows don't hurt, nor does the high-tech infrastructure, he notes. "We built this space for people who are 16 years old today. There's wireless connectivity downstairs by the coffee bar–that's how they're going to work. People are continuing to blur the lines between the workplace and home life, so they're becoming more and more comfortable at work."
Now that Proskauer has made the move to its new home, the firm's name will grace a highly visible sign on the building, marking the first time in New York City that a law firm has had its name emblazoned on the top of its headquarters.