By Dees Stribling, Contributing Editor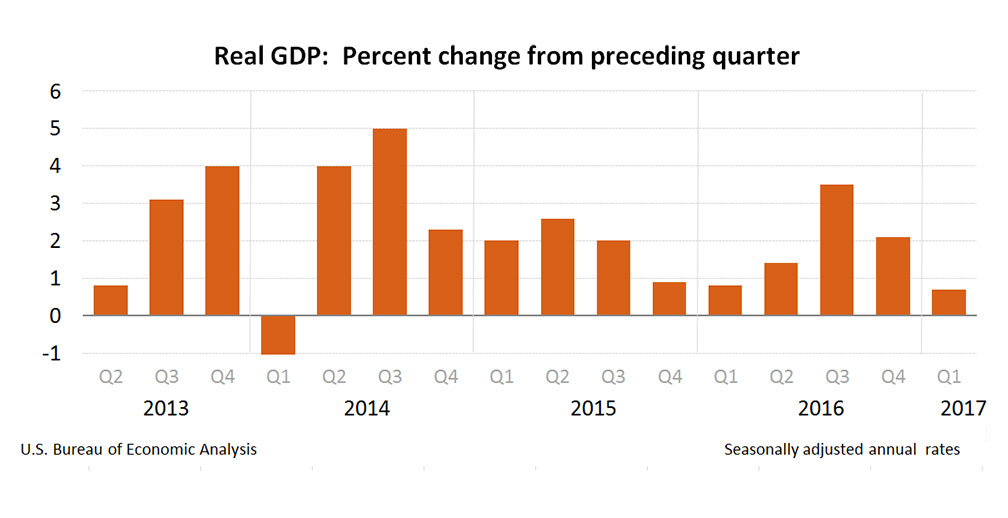 Real U.S. gross domestic product increased at an annualized rate of 0.7 percent in the first quarter of 2017, according to the first or "advance" estimate released by the Bureau of Economic Analysis on Friday. That number is not great when compared to the fourth quarter of 2016, when real GDP increased 2.1 percent.
Two caveats: the first-quarter advance estimate released is based on incomplete source data, and will be revised twice in the coming weeks as more complete data is available. Generally the revisions are upward, though not always. Also, the first quarter has been relatively weak compared to the rest of the year for the U.S. economy for a few years now, so this wasn't a surprise.
The increase in real GDP in the first quarter reflected positive contributions from a number of sectors, including nonresidential fixed investment, exports, residential fixed investment and personal consumption expenditures, or consumers spending their money. A number of sectors dragged on real GDP, namely private inventory investment—businesses spending their money—state and local government spending, and federal government spending. Imports, which are a subtraction in the calculation of GDP, increased.
Personal consumption expenditures, though positive, only increased at a 0.3 percent annualized rate in the first quarter, down from 3.5 percent in the fourth quarter of 2016. Residential investment increased at a 13.7 percent pace. Equipment investment increased at a 9.1 percent annualized rate, while investment in non-residential structures (CRE) decreased at a 22.1 percent pace, probably as lenders became a little more chill about the market.