November 12, 2010
By Dees Stribling, Contributing Editor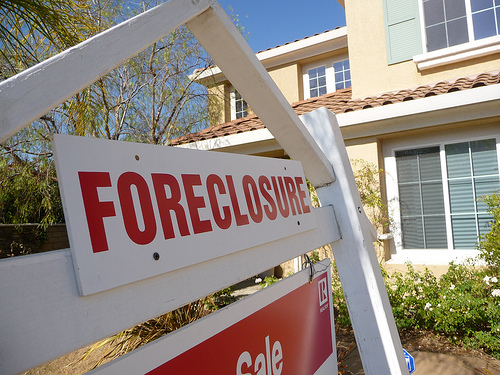 Foreclosure activity nationwide took a 4 percent dip in October compared with the previous month, according to RealtyTrac. Curiously, foreclosure filings—default notices, scheduled auctions and bank repossessions—were reported on 332,172 properties during October, almost exactly the same total reported in October 2009.
Why the slowdown? James J. Saccacio, CEO of RealtyTrac, posited in a statement that "the numbers probably would have been higher except for the fallout from the recent 'robo-signing' controversy, which is the most likely reason for the 9 percent monthly drop in REOs we saw from September to October, and which may result in further decreases in November."
One of these months, the top three foreclosure states will not be Nevada, Florida and Arizona, in that order. But not yet: those usual suspects continue to top the foreclosure charts, though in fact Nevada foreclosures were down 13.1 percent month-over-month, according to RealtyTrac. Florida experienced a 4.4 percent foreclosure decline month-over-month and Arizona saw a 3.3 percent decline over the same period.
Facebook Data Center Slated for North Carolina
North Carolina has a history of attracting data centers, with such diverse major tech operations as Apple, Google, IBM and American Express either operating or bringing data operations to the state. Now Facebook Inc., the newest big kid on the tech block, has announced its intention to build a data facility in the Tar Heel State.
The $450 million facility is in Rutherford County (the closest town of any size is Spartanburg, S.C.), which has the draws of relatively inexpensive electricity, a moderate year-round climate, and aggressive incentives by state and local governments. Data is increasingly important to the future of that part of the state, which has lost most of its textile industry. a former economic mainstay, in recent decades.
Construction on the data center will begin immediately and is expected to take 18 months. It will be Facebook's second data center of its own, though the social media giant leases others. No word on how much of the North Carolina data center will be given over to making Farmville run smoothly.
Wal-Mart Cuts Shipping Costs to Zero for Holidays
Wal-Mart Stores Inc. might have found yet another way to undercut its competition, at least in the realm of e-commerce for the holiday season: massive amounts of free shipping. Starting on Thursday, the behemoth retailer began offing free shipping (no extra charge, really) on roughly 60,000 gift items through Dec. 20. The kicker: no minimum order. Now that the 800-lb. gorilla of retail, which already has low-cost contracts with logistics firms and its own distribution network, has made the move, other retailers are mulling the same strategy, and some have gone partly as far as Wal-Mart already.
Unless, of course, they are small sites that can't afford the strategy. In that case, they might find themselves in the same Wal-Mart-inspired vise that small-town retailers find themselves in whenever a Wal-Mart opens in town.
In any case, competition in e-commerce is no small potatoes any more. Excluding airline tickets and other travel expenditures on line, U.S. e-commerce sales were $99 billion during the first three quarters of 2010, according to ComScore, which tracks Internet commerce. That's about 7 percent of total retail sales.
Amid all the QE2 and G20 hubbub, Wall Street had a down day on Thursday, with the Dow Jones Industrial Average shedding 73.94 points, or 0.65 percent. The S&P 500 lost 0.42 percent and the Nasdaq declined 0.9 percent.