By D.C. Stribling, Contributing Editor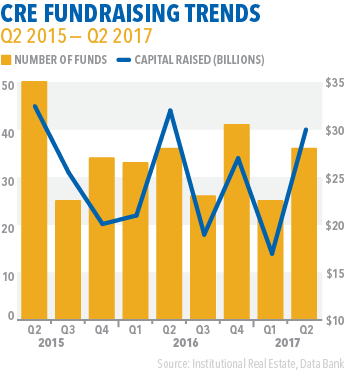 The U.S. economy has enjoyed stable, long-term growth in recent years, yet remains vulnerable to federal government dysfunction or aggressive Federal Reserve moves, according to the latest edition of "The Briefing" by Transwestern. In the report, Transwestern Chief Investment Officer Tom McNearney outlines positive fundamentals but warns that tensions remain regarding government funding and borrowing.
In September, the possibility of another government shutdown and default disrupted pricing of short-term securities under looming deadlines, an issue that will need to be revisited before the new deadline of Dec. 8, said McNearney.
"Meanwhile, the markets continue to prosper despite dysfunction in Washington, underscoring that the primary economic risk today is geopolitical," he noted.
Positive Fundamentals
August marked 83 consecutive months of U.S. job growth—the longest run on record—though it was finally broken with a small loss in September (provided that figure isn't revised upward to be positive). Although real estate assets appear fully priced, the report said, they are supported by strong property fundamentals, growth in corporate profits and jobs. Corporate spreads over the 10-year Treasury yield remain healthy at 250-plus basis points, and consumer and business sentiment are at all-time highs.
The report also noted a number of facts about the economy, some of which are a reflection of residential and commercial real estate trends. For instance, millennials' share of first-time home purchases climbed to 35 percent in 2016, from 32 percent the previous year. Also, fund operators report a record $963 billion in dry powder; Blackstone alone has $32 billion to invest in global real estate.
In the retail sector, Credit Suisse predicted a surge in store closings, with a quarter of the United States' 1,100 shopping malls to be lost within five years. Grocery-anchored centers will likely fare better: online purchases counted for less than 1 percent of the $1 trillion grocery sales in 2016, making it one of the lowest online-penetrated retail categories, according to Moody's.