By Dees Stribling, Contributing Editor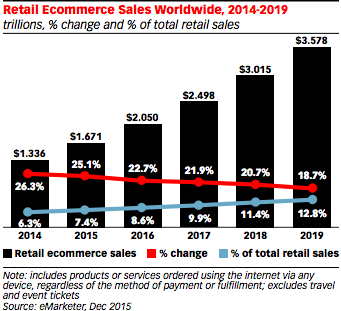 Another report to worry some traditional retailers: e-commerce sales, long an increasing share of all retail sales, are still on that track in the next few years, according to a new eMarketer report, "Worldwide Retail Ecommerce Sales: The eMarketer Forecast for 2016." eMarketer is a market research company specializing in digital marketing, media and e-commerce.
Retail e-commerce sales–which include products and services (except for travel, restaurant and event ticket sales) ordered via the Internet over any device–will reach more than $1.9 trillion worldwide in 2016, accounting for 8.7 percent of total retail spending. While the pace of growth for overall retail sales will be relatively subdued for the year (up 6 percent), the digital portion of sales continues to expand rapidly, with a 23.7 percent growth forecast for 2016.
That's just for this year. eMarketer also expects retail e-commerce sales will increase to about $4.1 trillion in 2020, when it will make up 14.6 percent of total global retail spending that year–a much larger share of an only somewhat bigger pie. Older forms of physical retail, such as department stores and electronics vendors, stand to lose the most unless they can deeply reinvent themselves (perhaps by becoming more experiential).
Retail e-commerce sales in North America will mirror the global trends, rising 15.6 percent this year to reach more than $423.3 billion, noted the report. That growth maintains the region's status as the world's second largest e-commerce market after Asia-Pacific. North America will see consistent double-digit e-commerce growth through 2020, fueled by increased spending from existing digital consumers, expansion into new categories such as grocery, and growing m-commerce (mobile commerce) sales.