By Dees Stribling, Contributing Editor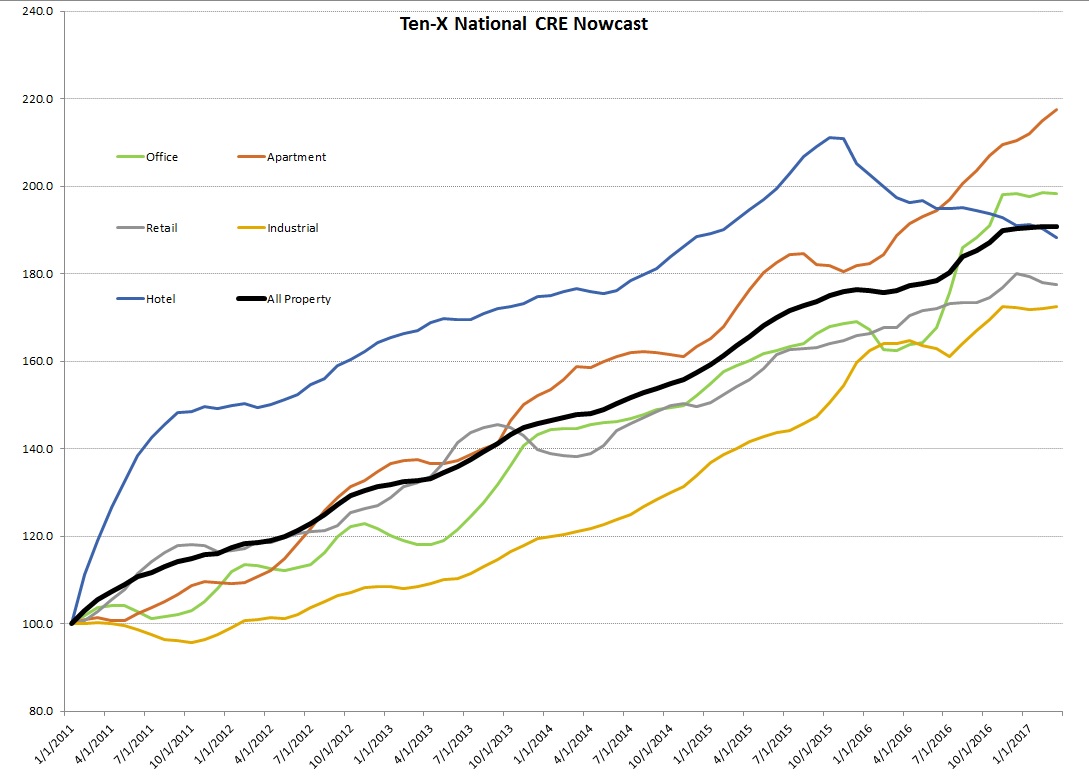 Nationwide commercial property valuations grew by 0.1 percent during March, and have climbed just 0.5 percent since November, according to the latest Ten-X Commercial Real Estate Nowcast, released late last month. According to Ten-X, pricing across commercial real estate rose 8.4 percent over the last 12 months, although the robust growth that characterized most of 2016 largely dissipated around the time of the election and Federal Reserve interest rate hikes.
According to the Nowcast, the apartment sector remained a bright spot in the industry, posting a 1.2 percent gain in pricing during March—the strongest growth among any CRE sectors. The sector has now increased 15.4 percent over the past year, despite stabilized fundamentals, tighter cap rate spreads and rising interest rates.
The Ten-X Industrial Nowcast eked out a 0.2 percent increase in March, joining the apartment sector as the only one to show growth during the month. The uptick marked the second straight month of growth for industrial, which has seen pricing rise 5.2 percent over the last year. Investors continue to view the segment favorably, owing largely to the industrial demand generated by e-retail and cloud computing, the report noted.
Both office and retail saw pricing slip during March, posting declines of 0.1 percent and 0.3 percent, respectively, according to Ten-X. Both sectors have been moving sideways since November, and retail has now contracted slightly in each of the last three months. While the Office Nowcast is up a whopping 22 percent from a year ago, that's more a function of the weakness in office pricing in early 2016, and its subsequent rebound, than the overall health of the sector.
The pricing index combines Google Trends data, Ten-X's proprietary transaction data and investor surveys to forecast CRE pricing trends. It's published monthly.