By Dees Stribling, Contributing Editor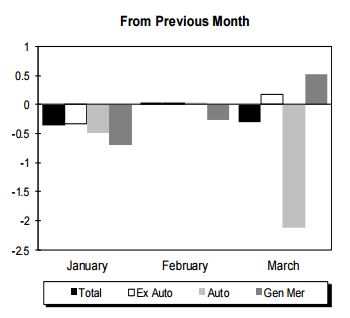 The Census Bureau reported on Wednesday that U.S. retail and food services sales for March (adjusted for seasonal variation, holiday and trading-day differences, but not for price changes) declined 0.3 percent from the previous month. Also, the January-to-February change was revised from down 0.1 percent to virtually unchanged. Even so, retail sales were still up by 1.7 percent compared with March 2015.
As usual, there were winning and losing categories among retailers, and month-over-month, there were more losers than winners. Clothing stores, for instance, suffered a 0.9 percent monthly sales dip in March, while food service and drinking places' sales dropped 0.8 percent. Car sales—which have done well for quite a while—were off 2.1 percent for the month.
By contrast, building material & garden equipment and supply dealers sold 1.4 percent more goods for the month, presumably because of relatively mild weather in March. General merchandise was up 0.5 percent (Walmart and the like). Other retail categories were flat or nearly so: grocery stores, electronics stores and miscellaneous store retailers (i.e., dollar stores).
Most categories were still up year-over-year, with building supply stores doing very well, enjoying a 10.8 percent increase since last year. Department stores, the Charlie Brown of the retail world, lost 6.1 percent in sales since last year (and 0.6 percent for the month). Remarkably, nonstore retail (Internet) sales edged down for the month by 0.1 percent, but are still strong, gaining 6.5 percent since March 2015.