By D.C. Stribling, Contributing Editor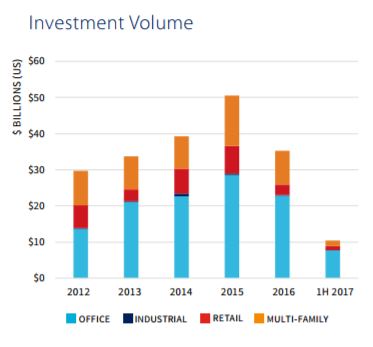 Total U.S. real estate investment volume dropped by 12 percent compared with the same period in 2016, with industrial being the only sector to increase volume in the first half of 2017, Avison Young reported recently.
Los Angeles led the way in total investment sales dollar volume at $11.5 billion as of the end of the second quarter of 2017, though that's $2.7 billion less than the same period in 2016. Office, retail and multifamily sales dollar volumes were all below their mid-year 2016 levels. Only industrial sales volume picked up, by 17 percent, from the same time in 2016.
New York lost its title as the top U.S. investment sales center after a sizable drop of more than 50 percent in total dollar volume in the first half of 2017, Avison Young reported. The decline was due largely to a relatively low supply of properties for sale. Even so, Manhattan continues to see interest from foreign buyers, who are attracted to the robust health of the office market.
Markets with Momentum
Washington D.C. remained a stable market overall with investors, and especially foreign investors, who continue to show interest in the office market. A 29 percent drop in multifamily sales volume was due to a relative lack of supply.
The most significant increase in U.S. investment sales volume occurred in San Francisco, which experienced a 73 percent increase compared with the same period in 2016. Of the larger metro real estate markets, Orlando, Boston and Houston also posted impressive growth rates: 61 percent, 52 percent and 40 percent, respectively.
While cap rates for office, industrial and multifamily properties dipped slightly across the U.S., the overall average cap rate across all markets and property types remained unchanged at the end of second-quarter 2017, compared with a year earlier, due to a rise in retail cap rates.
Large markets, such as New York, San Francisco and Los Angeles, continue to record cap-rate compression, the report noted. Other attractive metro markets, such as D.C., San Diego, Denver and Miami, registered an uptick in cap rates, generated by a limited supply of trophy CBD assets, which have historically exhibited the lowest cap rates.