By D.C. Stribling, Contributing Editor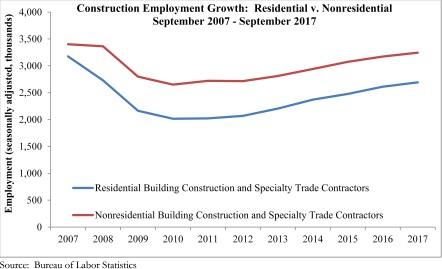 The U.S. construction industry added a net of 8,000 jobs in September, according to the Bureau of Labor Statistics on Friday. The nonresidential sector added 11,700 jobs for the month, meaning that a few thousand jobs drained away from the residential side of the industry. Nonresidential specialty trade contractors were the main component of the gain, adding 8,500 net new jobs month-over-month.
The construction industry unemployment rate, which the BLS publishes only on a nonseasonally adjusted basis, remained unchanged at 4.7 percent. That's only modestly higher than the headline U.S. unemployment rate (seasonally adjusted) of 4.2 percent, which is the lowest level since February 2001.
The busy hurricane season for the United States, which accounted for the first net drop in overall payroll employment in years in September, may also help explain the significant growth in employment among nonresidential specialty trade contractors, who would be among the first to support rebuilding efforts, said Associated Builders and Contractors Chief Economist Anirban Basu.
"These are the people who fix roofs, deal with broken glass and begin the process of helping property owners and businesses restart their enterprises," Basu noted in a statement. "Conversely, the addition of 11,700 net new jobs in nonresidential construction in September may simply be a reflection of the ongoing increase in demand for human capital that has been observed in recent months."