By D.C. Stribling, Contributing Editor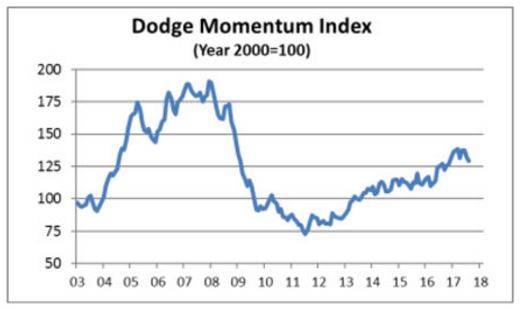 The Dodge Momentum Index moved lower in August, falling to 129.1 (2000 = 100) from its revised July reading of 132.2, reported Dodge Data & Analytics. The Momentum Index is a monthly measure of the first (or initial) report for nonresidential building projects in planning. That kind of activity leads construction spending for nonresidential buildings by a full year.
Dodge chalked up the decline in August to an 8.7 percent drop in the commercial component of the Momentum Index, while the institutional component rose 7.3 percent. The commercial component has seen a steep rise over the past year as large projects—particularly office buildings—entered the planning cycle.
Now that steep rise is beginning to reverse. The August drop for the commercial component brings planning activity back to a level more consistent with a sustainable pace of development, the company posited.
In August, eight projects entered planning, each with a value of $100 million or more. For the institutional building sector, the leading projects were a $230 million University of New Mexico hospital replacement project in Albuquerque, and a $218 million high school in Aledo, Texas. The leading commercial building projects were the $205 million Niagara Falls Grand Hotel in Niagara Falls, N.Y., and a $178 million Amazon fulfillment center in Salem, Ore.