June 9, 2010
By Dees Stribling, Contributing Editor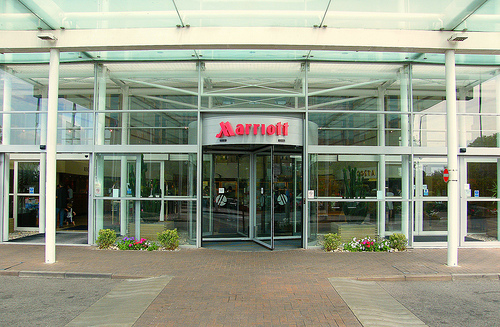 Room rates at Marriott International properties in North America showed an increase in May for the frist time in more than two years. According to the company, the increase was all of 1 percent compared with the same month in 2009, but an increase of any kind is a rare bird in the hospitality business these days.
But maybe not for much longer. "The next number of years are going to be great," predicted Marriott president Arnie Sorenson at the 32nd NYU Hospitality Conference on Monday. "We've had a few months of pretty stunning numbers. Occupancy and demand are coming back, and that bodes well for the next couple of years."
He's not the only one that's optimistic. According to STR Global, the U.S. hotel industry will see 2010 occupancies increase 3.6 percent to 56.7 percent, with revenue per available room (RevPAR), an important hotel metric, rising 3 percent to $55.13.
"The luxury chains are going to be by far the best performing of the chain scales in 2010 in terms of RevPAR growth—but of course they had the farthest to come," said Mark Lomanno, president of STR, in a statement. "It's definitely going to be a luxury/upper upscale-led recovery, which is a textbook recovery. That's important for the industry to regain pricing power across the board."
China's Intenion: Deflate RE Bubble Without Popping It
China is reportedly looking to put the brakes on its overheated real estate market, and there's some indication that the nation's markets are taking the hint. According to government statistics released Tuesday, home sales in Beijing and Shanghai were down 70 percent in May from April.
Thus far the braking measures have included raising down payments and limiting the purchases of second homes. Now, according to various news reports, the country's State Council is considering introducing a property tax system much like in the developed world. Currently property buyers in China pay a tax at the time of purchase, but not an ongoing tax based on assessments by localities.
It would be a slow transition to the new system, since localities aren't equipped to handle any assessment systems yet. But the thinking is that the very prospect of a property tax will help take some of the wind out of residential property speculators.
Fewer Housing Starts in Canada
Not even the Canadians are building as many houses as they used these days, according to a report on Tuesday by Canada Mortgage and Housing Corp. (CHMC) that said that starts nationwide fell in May by 6.3 percent to an annualized 189,100 units. Economists polled by Bloomberg were expecting starts to be more than 200,000.
Starts on multifamily properties declined by 5.6 percent to 92,800 units, while single-family starts dropped by 14.1 percent to 72,400 units, the CHMC noted. The Atlantic provinces, however, bucked the trend and posted a 23.3 percent increase in starts.
The Bank of Canada is predicting that housing will "weaken markedly" during the rest of this year and into 2011. The low interest rates that had been supporting sales in Canada are now going away, and tighter mortgage lending rules came into effect recently as well.
Wall Street yo-yoed back up (mostly) on Tuesday, with the Dow Jones Industrial Average swinging up 123.49 points, or 1.26 percent, and the S&P 500 gaining 1.1 percent. The Nasdaq, however, edged 0.15 percent lower.