By Dees Stribling, Contributing Editor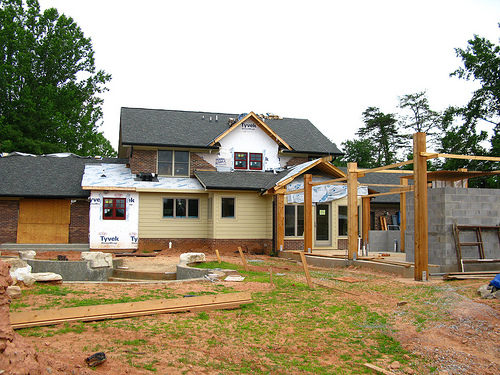 Homebuilders aren't exactly optimistic these days, according to the latest National Association of Home Builders index, released on Monday. Any reading below 50 means that the industry collectively thinks that times are still hard, with homebuilders vexed by sluggish sales, tight credit and too many distressed properties — and the index was 28 this month, same as last month.
Still, that's a significant improvement from the exceedingly poor reading last September, when the NAHB index came in at 17. Almost a year ago, in June 2011, the index was even worse, at 15. So homebuilders' spirits are beginning to revive from their multi-year funk, something like the broader economy. Homebuilders are even more optimistic about the next six months, with the component gauging sales expectations in the next six months gaining two points to 36.
"Builder confidence is now twice as strong as it was six months ago," NAHB chief economist David Crowe, noted in a statement. "That said, many of our members continue to cite obstacles on the road to recovery, including persistently tight builder and buyer credit and the ongoing inventory of distressed properties in some markets."
Fannie Mae Also Optimistic About '12
Fannie Mae's Economic & Strategic Research Group reported on Monday in its February National Housing Survey that things are looking up, though modestly. Four solid months of private sector payroll growth have given rise to the possibility of overall increased economic activity, the report said, with employment playing a pivotal role for a housing recovery.
"[The] survey has shown the impact of recent strong private sector employment growth on Americans, as consumer confidence in the direction of the economy has improved by 19 percent since November 2011," Fannie Mae chief economist Doug Duncan said about the report. "We continue to see a better balance of upside and downside risk, as the improving labor market is expected to help turn one of the headwinds in the housing market into a tailwind."
The GSE also had some comments to make about the wider economic picture. The most positive aspect of the recent GDP revisions was the upward revision to income growth, it said, which revealed a less-sharp decline in the saving rate in the second half of 2011. Increased income growth and less saving reduction imply that consumers will go out and spend, at least in the short term. Overall, the GSE expects the U.S. economy to start growing faster than the subdued pace of the first quarter of 2012, strengthening to about 2.5 percent during the second half of the year.
Apple Now De Facto Blue Chip
"Think different," it seems, doesn't apply to Apple when it comes to making plans for the $100 billion or so war chest that Steve Jobs amassed while at the helm (about the 2010 GDP of Qatar, Bangladesh or Vietnam, to give some perspective). On Monday, the tech company among tech companies said that it was distributing a dividend totaling about $35 billion and buying back some of its shares, just as most any other industrial behemoth would do.
To quote an Apple statement on the matter of stock repurchases, "the repurchase program is expected to be executed over three years, with the primary objective of neutralizing the impact of dilution from future employee equity grants and employee stock purchase programs." With wording like that, the statement could have just as easily been issued by Microsoft — or IBM or GM, for that matter, at least in their heydays.
Wall Street went up and then mostly lost its momentum on Monday. The Dow Jones Industrial Average gained 6.51 points, or 0.05 percent, while the S&P 500 was up 0.4 percent. The Nasdaq did better, led by Apple, gaining 0.75 percent. During regular trading, Apple was up 2.65 percent, or $15.53, to $601.10, and inched up further in after-hours trading.