October 29, 2010
Dees Stribling, Contributing Editor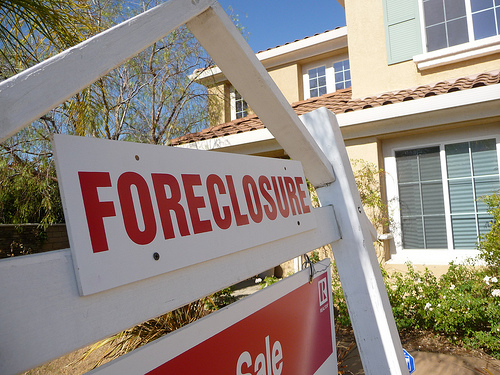 Foreclosure slowdown? What foreclosure slowdown? That's the takeaway from Thursday's third quarter 2010 Metropolitan Foreclosure Market Report by foreclosure specialist RealtyTrac. Among the 206 metro areas tracked by the report, 133 of them—65 percent—experienced year-over-year increases in foreclosure activity during 3Q10, which includes everything from notices of default to foreclosure auctions.
The same states are still in the top ten in terms of foreclosures, as they have been with tiring regularity for some time now: Arizona, California, Florida and Nevada. Still, some other places outside these states are seeing rapid increases in foreclosures, as unemployment doggedly persists: Seattle-Tacoma-Bellevue suffered a 71 percent increase in foreclosure activity compared with 3Q09, followed by Chicago-Naperville-Joliet with a 35 percent increase over the same period; Houston-Sugar Land-Baytown with a 26 percent increase; Detroit-Warren-Livonia with a nearly 23 percent increase; and Atlanta-Sandy Springs-Marietta with a 20 percent increase.
"The underlying problems that are causing homeowners to miss their mortgage payments—high unemployment, underemployment, toxic loans and negative equity—are continuing to plague most local housing markets," James J. Saccacio, CEO of RealtyTrac, said in a statement. "These historically high foreclosure rates will continue until those problems are resolved."
High-Priced Vegas Homes Still Sell
Las Vegas, poster child for foreclosure, still has a "luxury" housing market—that is, homes that fetch more than $1 million—according to a new report by Luxury Homes of Las Vegas, a high-priced home specialist. But even in that realm, things aren't quite what they used to be.
The rate of Vegas luxury homes selling at or above $1 million dollars were down by 14 percent during the third quarter of this year compared with the same period last year. All together there have been 101 residential properties over $1 million sold in the market year-to-date through the third quarter of 2010. The number of luxury homes selling at or above $3 million dollars, on the other hand, was up by 7 percent from 3Q09. The highest luxury home sale thus far in 2010 was for $7 million in late January, for a property in the Ridges.
Those numbers point to an active, if not stellar, higher-end housing market in Las Vegas. But one other statistic tells another story: In September, about 10 percent of the luxury home sales over $1 million dollars were REOs, a low percentage compared to the general market, but indicative of troubles even for some upper-end borrowers.
Business Travel Perks Up
In what ought to be good news for the U.S. hospitality industry, business travel has picked up, and the momentum is there for an even better year next year. According to the first-ever quarterly business travel forecast, "Business Travel Quarterly Outlook–United States," by the NBTA Foundation (an arm of the National Business Travel Association), U.S.-originated business travel spending is expected to grow 3.8 percent this year compared to 2009.
The report further noted that total number of U.S. business trips saw a sharp decline of 15.6 percent because of the Great Recession, from 511 million trips in 2007 to 431 million in 2010. The decline was driven in large part by the drop in transient business travel, which comprises 60 percent of the total, as a result of tighter travel management, shortening trips, and some use of technological travel alternatives. However, the NBTA Foundation predicts, through 2012 transient travel is expected to advance 31 percent as the economy continues to recover and travel restrictions are lifted.
The recovery won't be overly speedy. "It's clear that companies are taking their time in shifting from the current cost-containment culture, and recovery will continue to ramp up slowly," Michael W. McCormick, NBTA Executive Director and COO, noted in a statement. "We're looking forward to the end of 2012, when the industry should see a return to peak levels."
Wall Street had an unexciting day on Thursday, with the Dow Jones Industrial Average ending down 12.33 points, or 0.11 percent. The S&P 500 and Nasdaq were up 0.11 percent and 0.16 percent, respectively.