November 15, 2011
By Dees Stribling, Contributing Editor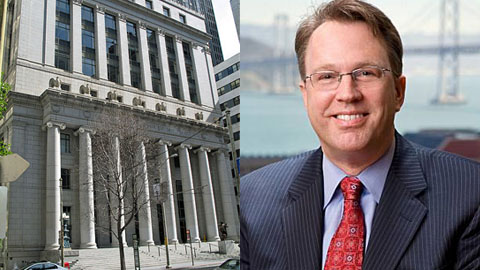 Economists and pundits haven't been talking about a double-dip recession for a few weeks, but a new report by the Federal Reserve Bank of San Francisco drags that possibility out for a fresh examination. The report warns that the risk of another recession during the first half of 2012 is "greater" than even money. "The deteriorating fiscal realities … have been keeping many a trader awake at nights, reliving the nightmare of the near-collapse of financial markets in the wake of the Lehman Bros. bankruptcy," notes the bank's latest Economic Letter, prepared by Fed economist Travis J. Berge and research associate Early Elias, and released on Monday.
The main reason? A blowup in the euro zone, naturally. "Prudence suggests that the fragile state of the U.S. economy would not easily withstand turbulence coming across the Atlantic," the report continues. "A European sovereign debt default may well sink the United States back into recession. However, if we navigate the storm through the second half of 2012, it appears that danger will recede rapidly in 2013."
Separately, in the a speech only last week, John C. Williams, president of the San Francisco Fed, warned of systemic dangers to the economy." Recent reforms do not fully address a basic fact bared during the financial crisis. The funding system rooted in the capital markets is inherently at risk for runs, contagions, and panics," Williams said. "The global financial crisis and the more recent European sovereign debt crisis demonstrate that the complex global financial system is, if anything, intrinsically susceptible to systemic breakdown."
Americans Glum About Job Prospects
A recent Gallup poll surveying 1,012 adult residents of the United States has found that Americans' assessments of the job market worsened in November and that they're in fact the most pessimistic they've been in the past decade. Fully 90 percent of the poll's respondents said that now is a "bad time" to find a "quality job," while only a slim 8 percent think now is a "good time."
The pessimism runs deep in all age groups, political affiliations, levels of education and among men and women nearly equally. For example, 89 percent of men believe now is a lousy time to find a not-lousy job, compared with 91 percent of women. Some 90 percent of Republicans agree with that statement, whereas 89 percent of Democrats do (and 91 percent of independents feel that way). Eighty-nine percent of people with a high school education or less are pessimistic about finding good jobs, while a surprising 95 percent of those with postgraduate education are just as glum.
Gallup has been doing this kind of polling for a good many years now, and the percentage of respondents saying that it's a good time to find a good job peaked at 48 percent in January 2007. The best ratings this year were in April, when 81 percent said it was a bad time, versus 17 percent saying it was a good time to find a job worth writing home about, but even that small measure of confidence in the job-market recovery has evaporated.
Italian Debt-Sale Points to Investor Nervousness
Italy auctioned 3 billion euros' ($4.1 billion) worth of five-year bonds on Monday, and the result wasn't all together promising. Yields on the debt spiked to a record 6.29 percent. As these things go, it was relatively a small sale, but likely indicating that investors aren't eager for more Italian debt until they see whether the new government can actually do anything useful.
European shares generally reacted badly to the Italian debt story, and Wall Street had a down day on Monday as well, though not a full downward yo-yo. The Dow Jones Industrial Average lost 74.7 points, or 0.61 percent, while the S&P 500 and the Nasdaq lost 0.96 percent and 0.8 percent, respectively.