October 13, 2011
By Dees Stribling, Contributing Editor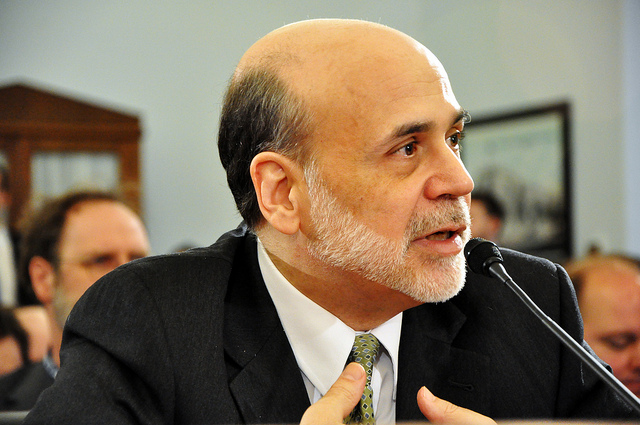 The Federal Reserve released the minutes of its Sept. 20-21 Federal Open Market Committee meeting on Wednesday, and to some extent they showed a central bank uncertain about how to handle the recovery's mid-year halt. The Fed discussed another round of bond purchases–which would inevitably be called QE3, whether Fed Chairman Ben Bernanke likes it or not–and two unnamed members thought it might be a good idea. In the end, however, the Fed didn't opt for QE3, but rather the central-bank alchemy called the Twist, which focuses on a shift to shorter-term bonds.
Turning to other topics, the Fed gave real estate a decidedly mixed assessment. "Prices of most types of commercial properties remained depressed despite a slight decline in vacancy rates in the second quarter," the minutes said. "Delinquency rates on loans that back existing CMBS hovered at an elevated level in August, but delinquency rates on commercial real estate loans held by banks decreased in the second quarter."
The Fed took note of the fact that lower residential mortgage rates–one of the goals of the Twist–"spurred little refinancing activity, in part because of tight underwriting standards and low levels of home equity for many households." Committee members also discussed the worrisome trend that while serious mortgage delinquency continued to moderate, prime mortgages have moved into delinquency at a stepped-up pace in recent months.
Pulse of Commerce Index Drops Again
The Ceridian-UCLA Pulse of Commerce Index, released on Wednesday by the UCLA Anderson School of Management and Ceridian Corp., fell 1 percent in September, following a 1.4 percent decline in August and a 0.2 percent decline in July. Based on that reading, the Anderson School is predicting U.S. GDP growth of 0 percent to 1 percent for the third quarter of 2011.
Year-over-year, the index was down 0.2 percent in September. "Businesses appear to be unwilling to restock for a potentially vibrant holiday season at the same time as normal, and they are planning to ramp up inventories late this year, if and when the sales start to materialize," commented Ed Leamer, chief economist for the Ceridian-UCLA Pulse of Commerce Index and director of the UCLA Anderson Forecast.
The index is based on real-time diesel fuel consumption data for over-the-road trucking and serves as an indicator of the current state and possible future direction of the U.S. economy, according to the Anderson School. By tracking the volume and location of fuel purchases, the index monitors the movement of raw materials, goods-in-process and finished goods to U.S. factories, retailers and consumers.
Buffett Cheerfully Prods Other Billionaires
Warren Buffett, the Berkshire Hathaway Inc. chairman and world's third-richest person, publicly challenged fellow billionaire Rupert Murdoch (no. 117 worldwide) to simultaneously release his tax returns with Buffett's to Fortune magazine for publication. The Oracle of Omaha may have been having a spot of fun at the expense of the Murdoch-owned Wall Street Journal, which has been calling on Buffett to release his returns since he suggested that the government raise tax rates on extreme wealth at least as high as rates on modest wealth.
In a separate letter to Rep. Tim Huelskamp of Kansas, who has also asked Buffett to release his returns, Buffett reported that he paid $6.9 million in federal income taxes last year, equivalent to 17.4 percent of his $62.86 million income. "If you could get other ultra-rich Americans to publish their returns along with mine, that would be very useful to the tax dialogue and intelligent reform," Buffett told Huelskamp. "I stand ready and willing—indeed eager—to participate in this exercise."
Wall Street saw another upward bounce on Wednesday, still apparently persuaded that the euro zone will work out its troubles, or at least muddle through, when it became clear that Slovakia was going to approve the expansion of the European Union bailout fund. The Dow Jones Industrial Average gained 102.55 points, or 0.9 percent, while the S&P 500 was up 0.98 percent and the Nasdaq advanced 0.84 percent.