August 3, 2010
By Dees Stribling, Contributing Editor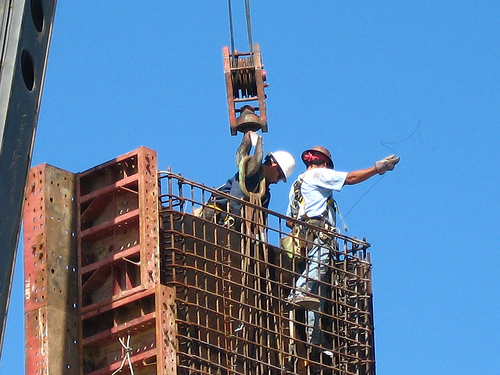 Construction spending in June was up 0.1 percent compared with May, according to the U.S. Department of Commerce–a surprise bit of good news, perhaps, since any gain is a good gain. That is, unless the May figure hadn't been revised to a full 1 percent decline, as opposed to the initial 0.2 percent decline compared with April that was initially reported.
Construction was down 7.9 percent in June 2010 compared with the same month in 2009. The May year-over-year decline was roughly the same, 8 percent.
Federal stimulus spending is still boosting construction: infrastructure projects, for one thing, were up 1.5 percent in June. A lot of power and utility construction is ongoing, with more modest amounts of public health-care construction, public office construction and highway building. Private construction, on the other hand, was universally down. Residential construction dropped 0.8 percent during June, while nonresidential construction declined 0.5 percent.
Manufacturing Still on the Climb; Industrial RE to Follow?
As expected (by CPE, among others), economic activity in the manufacturing sector expanded in July for the 12th consecutive month, according to supply executives in the latest Manufacturing ISM Report On Business released on Monday. Manufacturing continued to grow in July as the Purchasing Managers' Index registered 55.5 percent, a decrease of 0.7 percentage points when compared to June. Still, any reading above 50 percent means that the manufacturing economy is expanding.
Does expanding manufacturing mean eventual growth for industrial real estate, especially warehouse and distribution space as these goods flow to markets both domestic and overseas? Maybe. First Industrial Realty Trust Inc., one of the nation's larger industrial landlords, released its 2Q10 numbers on Monday, reporting that its funds from operation was 16 cents a share for the quarter, compared with 50 cents during 2Q09.
Nevertheless, Bruce W. Duncan, First Industrial's president and CEO, is optimistic. "A number of U.S. markets saw positive net absorption during the second quarter and we believe market occupancies and rents are near their troughs, with virtually no new supply coming online in 2010," he noted in a statement. "Pricing remains competitive, however, as evidenced by the rental rate changes on new and renewing leases."
Bernanke Assures Broke State Governments of Light at End of Tunnel
Federal Reserve Chairman Ben S. Bernanke gave a reasonably optimistic speech (it's in his job description) on Monday to the annual meeting of the Southern Legislative Conference of the Council of State Governments, in Charleston, SC. State governments have been especially battered by the recession–if California were a nation, the IMF would be involved–and the chairman acknowledged their problems, but said that in the long run things will be better.
The short run, however, is going to be hard. Bernanke also said that "notable restraints on the recovery persist. The housing market has remained weak, with the overhang of vacant or foreclosed houses weighing on home prices and new construction. Similarly, poor economic fundamentals and tight credit are holding back investment in nonresidential structures, such as office buildings, hotels and shopping malls."
Wall Street had quite an upward bounce on Monday, with the Dow Jones Industrial Average upward 208.44 points, or 1.99 percent, The S&P 500 gained 2.2 percent, and the Nasdaq advanced 1.8 percent.