By Dees Stribling, Contributing Editor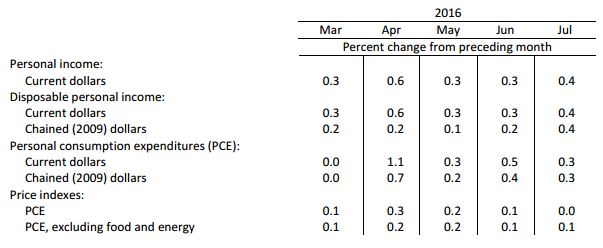 More good news for retailers and the landlords who lease to them: U.S. personal income increased $71.6 billion (0.4 percent) in July, according to the Bureau of Economic Analysis' latest estimates. Going hand-in-hand with that, personal consumption expenditures (PCE, or people spending that money that they've made) increased $42 billion (0.3 percent) for the month.
Consumer spending was spurred by a 1.6 percent increase in purchases of durable goods, such as automobiles. In fact, people are buying cars with considerable gusto now, following a temporary lull. Spending on services was 0.4 percent for the month, but spending on non-durable goods was down 0.5 percent.
Moreover, the PCE gain in June was revised upward to 0.5 percent. The July increase is thus the fourth month in a row in which consumers spent more than the previous month, which is helping offset lagging spending by businesses going into the third quarter (low spending on business inventory is one of reasons GDP growth is so low).
Inflation is still pretty low, too. As compiled by the BEA, the PCE price index—which excludes food and energy components—inched up 0.1 percent after a similar gain in June. That metric has risen by the same amount every month since March.