By Dees Stribling, Contributing Editor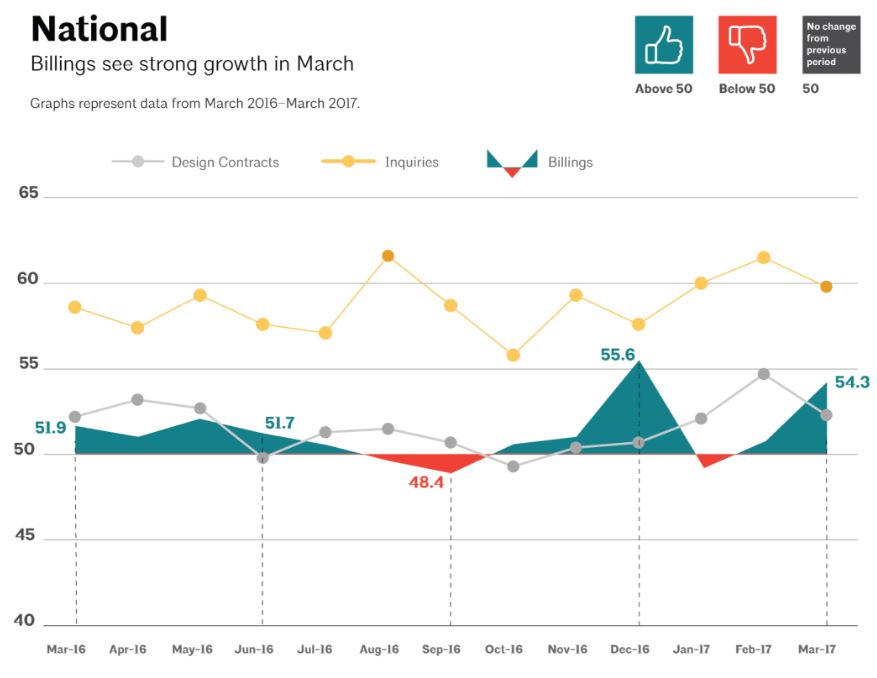 Architecture firm billings bumped back up in March, the American Institute of Architects reported late last week. The organization's national Architecture Billings Index came in at 54.3 for the month. For the first quarter of the year, the index averaged 51.5, down a bit from the fourth-quarter 2016 average of 52.4, but above the 2016 annual average of 51.2. That suggests that design activity is off to a solid start for the year, pointing to healthy levels of construction activity later this year and into 2018.
Project inquiries and new design contracts also remained strong in the March survey, meaning that design activity will continue to grow. New design contracts—with a reading of 52.3 for March—averaged just above 53.0 for the first quarter of this year. With new project work coming into firms exceeding billings for completed work, architecture firms are seeing their project backlogs grow. In fact, backlogs at firms averaged six months in March, the highest reading since the AIA began tracking backlogs quarterly in late 2010.
As a leading economic indicator of construction activity, the index reflects the nine- to 12-month lead time between architecture billings and construction spending. In recent years, the index has pointed to construction spending growth, though not consistently throughout the real estate industry.
Survey participants are asked whether their billings increased, decreased or stayed the same in the month that just ended as compared to the previous month, and the results are then compiled by the AIA. The index scores are centered around 50, with scores above 50 indicating an aggregate increase in billings, while scores below 50 point to a decline.