By Dees Stribling, Contributing Editor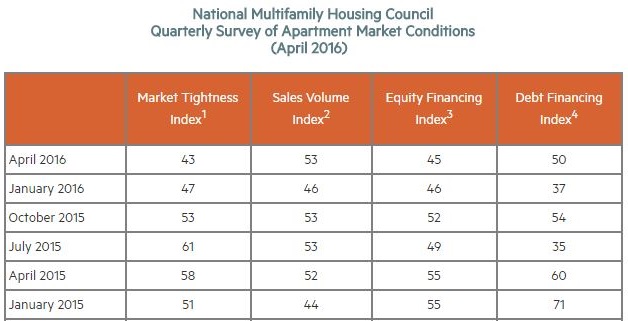 U.S. apartment markets, so long tilting favorably toward landlords, are going in a more mixed direction now, according to the National Multifamily Housing Council's quarterly survey, which was released on Thursday. The report put two of its four indexes below the breakeven level of 50.
The organization's Market Tightness (43) and Equity Financing (45) indexes showed declining conditions, while Sales Volume (53) and Debt Financing (50) indicated improving and steady conditions, respectively. The indexes are based on data gathered in mid-April from 120 CEOs and other senior executives of apartment-related firms nationwide.
Consumer demand for apartments declined in the Market Tightness Index, dropping four points to 43. After seven quarters reporting tighter conditions, this marks the second quarter indicating a looser market.
Property sales volume increased from last quarter, with the Sales Volume Index rising seven points to 53. Just over a quarter (26 percent) of survey respondents reported higher sales than three months ago, compared with 21 percent who indicated lower sales.
"We continue to see some softening in the market relative to one of the strongest runs in recent memory for the apartment industry," said Mark Obrinsky, NMHC's senior vice president of research and chief economist.