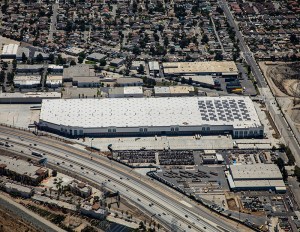 Duke Realty Corp. has announced the completion of its 529,866 square feet facility in Irwindale, Calif. The new smart building is set to reduce greenhouse gas emissions by 800,000 kg of carbon dioxide equivalent per year when compared to an air-conditioned warehouse powered by traditional electrical energy sources.
The project was initiated in March 2020 and was approved for development within six months. The facility has been leased by Fortune 20 company Home Depot, according to Commercial Observer.
---
READ ALSO: Resetting Real Estate Investment to a Sustainability-First Mindset
---
Located at 13131 Los Angeles St., the facility features a building automation system, smart metering system, solar panels and high efficiency AC units. Other smart building features include:
building automation system allowing tenants to remotely access and operate temperature and lighting
smart metering system monitoring energy consumption and power quality data from lighting and mechanical systems
dock sensing devices to track data on dock operations such as loading/unloading time, weights or truck position
LED lighting monitoring sensors that can optimize energy use by adjusting brightness and supplementing daylight for internal lighting
solar panels
industrial fans and gravity vents for insulation and airflow solutions
The facility also includes amenities such as food truck outlets and a garden. The building was designed by an inhouse committee of Duke Realty associates from various departments, with the participation of the tenants, who were able to incorporate intelligent and sustainable features throughout the design and development process. The new asset contributes toward the company's pledge to achieve carbon neutrality.
Duke Realty's take on sustainability
In November, Chris Burns, Duke Realty executive vice president for central and western regions, told Commercial Property Executive about the different technologies that would improve energy consumption and utilize renewable resources in the smart building: "We originally looked at this project as an opportunity to learn what features work and to engage our customers to better understand what is important to them. The response to the facility was better than anticipated."
Duke Realty has incorporated renewable energy sources into multiple facilities, however, this Irwindale facility is its first zero-net building. The company has pursued LEED certification on all new projects since 2019 and invested $2.3 billion in LEED development over the last three years. While green warehouses and zero-net buildings are not new, the demand for these facilities is estimated to increase.