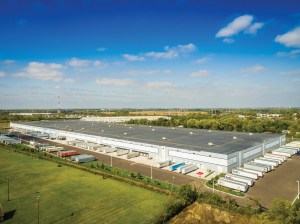 A new joint venture between Duke Realty Corp. and CBRE Global Investors has closed on the first of three tranches of logistics assets totaling 1.3 million square feet for $157 million.
In all, Duke Realty will contribute seven facilities totaling 4.8 million square feet and two trailer storage lots totaling 25 acres to the joint venture that will be 80 percent owned by CBRE Global Investors and 20 percent by Duke.
---
READ ALSO: Office Asset Near O'Hare Lands $148M Refi
---
The joint venture plans to place secured debt financing on the assets that will be about 50 to 60 percent loan-to-value.
The properties in the first tranche are located in the Atlanta and Chicago logistics markets at: 4200 N. Commerce Drive, East Point, Ga.; 6115 and 6125 Mimms Court (Site S), East Point; and 2865 Duke Parkway, Aurora, Ill. They consist of two facilities totaling 1.3 million square feet and one trailer lot totaling 17.2 acres.
Duke Realty declined to release the addresses of the remaining properties until those transactions close but both firms released general locations. The second tranche consists of two facilities and one trailer lot in Baltimore that is expected to close later in the third quarter. The third tranche consists of three facilities located in Pennsylvania, Seattle and South Florida that are expected to close in early 2022.
According to a prepared statement by Jim Connor, Duke Realty's chairman & CEO, officials with the largest domestic-only logistics REIT have said in recent earnings calls that they planned to monetize a portion of assets leased to one of the company's largest customers to manage portfolio risk. Connor also said Duke Realty has had several successful transactions with CBRE Global Investors, a leading global real assets investment management firm, in the past.
Morgan Stanley & Co. LLC acted as exclusive financial advisor and Hogan Lovells US LLP acted as legal advisor to Duke Realty.
Recent Logistics Deals
Gary Jaye, CBRE Global Investors Head of Americas Logistics Operator Division, said in a prepared statement the firm has deep knowledge and scale in the logistics sector and believes the joint venture with Duke Realty will continue to create future opportunities. He said teaming with a best-in-class partner like Duke Realty supports the firm's strategic ambitions for overweighting the sector to deliver real assets solutions that capitalize on market opportunities and drive outperformance.
Several recent transactions have been in the logistics sector. Earlier this month, CBRE Global Investors acquired Irvine Crossing, a 393,673-square-foot mixed-use facility in Irvine, Calif., through one of its sponsored funds, from an affiliate of Menlo Equities, for $180.8 million. In December, a fund sponsored by CBRE Global Investors acquired Memphis Global Crossing, a newly built, Class A logistics facility in Memphis, Tenn., from DHL Supply Chain, which will remain the main tenant. The 421,470-square-foot asset changed hands for an undisclosed amount.