By Barbra Murray, Contributing Editor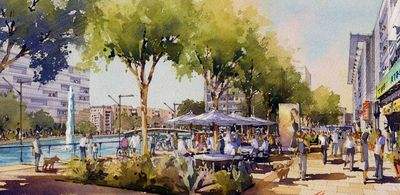 Duke Land Group has a big plan for the suburban Atlanta town of Roswell, Ga.–a sprawling 104-acre plan. The company, a subsidiary of Crown Holdings Group, just revealed preliminary details for Riverwalk Village, a mixed-use, eco-friendly community that will span 104 acres. How much does it take to build a city-within-a-city? Well, Duke Land Group has put a price tag of $500 million on the endeavor.
The announcement of the big plan comes two years after Duke Land Group joined forces with Duke Homes and Marquis Investments, also subsidiaries of Crown Holdings, to acquire the sprawling site at the intersection of GA 400 and Holcomb Bridge Rd. with cash and bank debt provided by NorthStar Realty Finance. Duke Land Group spent the intervening time well; the vision for Riverwalk Village covers all the customary bases in mixed-use development, and then some.
Riverwalk Village will have no lack of housing; the project will feature 1,500 residential units, including single-family attached, multi-family and independent-living residences. The development will also offer 1.7 million square feet of office space, 490,000 square feet of retail, restaurant and entertainment space, as well as a 200-room hotel. And in addition to the traditional residential/office/retail combination found at live/work/play destinations, Riverwalk Village will encompass 200,000 square feet of civic and institutional space that will include, among other tenants, the private Swift School, which will relocate from its current 20,500-square-foot home in Roswell.
And if Riverwalk Village has a central theme, it's green. Duke Land Group describes the project as an "ecologically driven development." There is almost as much green space as there is developed space in the plan. Roughly 43 percent of the site will be preserved open space featuring parks, public pedestrian-friendly areas, as well as public running, walking and biking trails.
Now, Duke Land Group is playing a bit of a waiting game in anticipation of zoning approvals and permits. If all goes as planned, the developer will commence construction of Riverwalk Village in the fourth quarter of 2015.