By IvyLee Rosario
The Alliance for Downtown New York has unveiled its plan for extensive design upgrades to the Stock Exchange District. Over the last nine months, The Alliance has incorporated feedback from the public, local property owners and residents, government agencies, more than 30 stakeholders and a design team that includes WXY Architecture + Urban Design, Sam Schwartz Engineering, SCAPE and City Activators. In its newest report, "A More Welcoming Wall & Broad: A Vision for Improving the Stock Exchange District," the company lays out a series of modifications that are guided by three principles:
creating an identity and sense of place
improving pedestrian experience
rationalizing essential deliveries
"The corner of Wall and Broad Streets is one of our city's most visited and most important historic locations and we'd all love to see the surroundings transform to reflect its importance," Jessica Lappin, president of The Alliance for Downtown New York, told Commercial Property Executive. "We have great community support and with all of the ongoing investment in the area—including projects from Macklowe Properties (1 Wall St.), Metro Loft Management (20 Broad St.) and GFP Real Estate (40 Exchange Place)—this is the perfect time to take on this project."
Staged improvements
The three principles outline new plans for the district that work within security parameters established by the New York Police Department. These will be implemented in stages over several years, by public and private investors. The report notes that the new design includes creating curbless shared streets and using more durable paving materials, as well as installing custom gateway structures at the main pedestrian entrances to the district. There will also be updates to the lighting, especially on New Street and Exchange Place, eliminating dark corridors and framing the neighborhood's nine landmarked buildings with architectural lighting.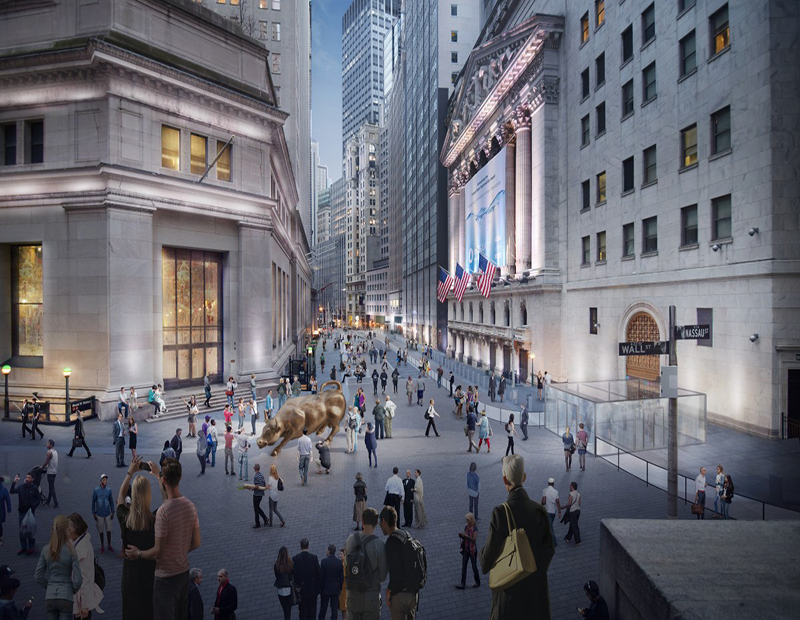 Another improvement will be expanding pedestrian access on Broadway and creating more sidewalk space on New Street by redesigning the street in a way that adds loading bays and gets trucks off of sidewalks. The Alliance will also be piloting a consolidated delivery center for all packages coming into the district, which will create a centralized drop-off point and distribute packages within the area by a hand-truck or smaller vehicle. Lastly, there will be multi-functional seating areas and planting beds added, as well as working on decluttering the security infrastructure with more attractive bollards.
"The Wall and Broad study is a thoughtful plan and how it's come together demonstrates the real power of BIDS," Ric Clark, chairman of The Alliance for Downtown New York, said in prepared remarks. "Throughout this process, the Alliance has led project with tremendous participation from the community, they brought the right players together to make these recommendations and I'm confident the collaborative efforts will continue as they try to get improvements underway."
Images and video courtesy of the Alliance for Downtown New York