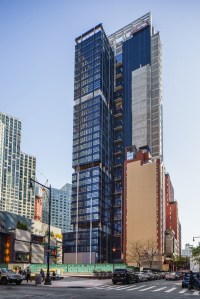 New York City Mayor Bill de Blasio, together with New York City Economic Development Corp. President & CEO Rachel Loeb and JEMB Realty Corp., have officially opened 1 Willoughby Square. The 500,000-square-foot building is the tallest office tower in downtown Brooklyn and the first to be completed since the 2004 Downtown Brooklyn rezoning.
---
READ ALSO: NYC Market Update: Development Increases YOY
---
Located at 420 Albee Square W, the 36-story tower is just steps from several subway lines, a block from Long Island University Brooklyn and roughly 3 miles from Downtown Manhattan. The project features 30-foot ceiling heights, touchless entry, conference facilities and communal outdoor space. Additionally, the development comprises a 300-seat public school within the first six-floors with a dedicated entrance on Albee Square West. The building's architect FXCollaborative is the anchor tenant and will relocate from their Manhattan office after 40 years.
Even if Brooklyn was among the country's top markets for office construction in 2020, the borough has been affected by the state's order to shutdown all nonessential construction, including commercial development. But according to Mayor de Blasio, the opening of the tower is a turning point for New York City's recovery and a successful example of a partnership between communities and the private sector. Brooklyn Borough President Eric Adams echoed the sentiment and added that the opening of the development is the culmination of a nearly two-decade promise to the residents of downtown Brooklyn.