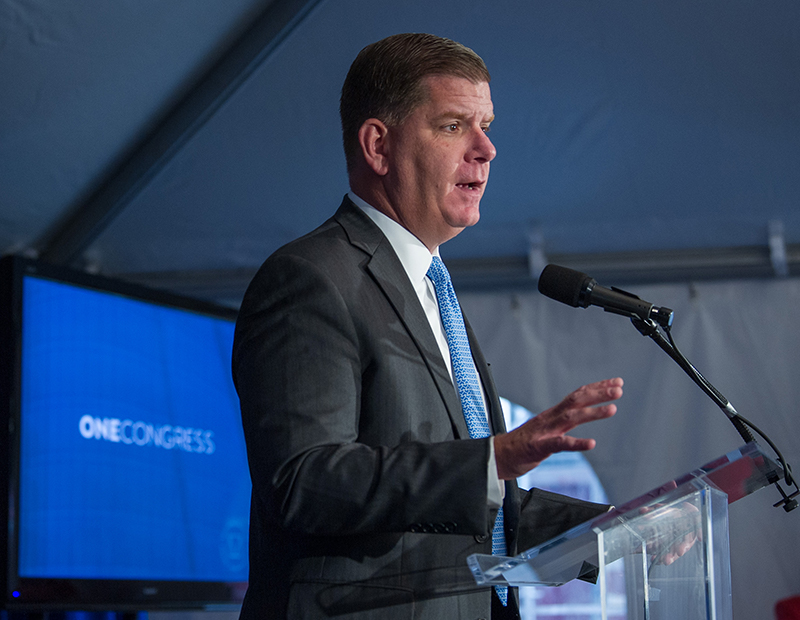 Shovels have hit the ground on One Congress, the office tower component of the $1.5 billion Bulfinch Crossing redevelopment project in downtown Boston. Executives and city officials, including Boston Mayor Martin J. Walsh, attended the groundbreaking ceremony for the nearly 1.2 million-square-foot, 600-foot-tall tower, which will house the new headquarters of State Street Corp.
Delivery is expected by year-end 2022. Developed by The HYM Investment Group, the building is owned by a 50-50 joint venture between Carr Properties and National Real Estate Advisors, on behalf of a client. The property designed by Pelli Clarke Pelli and CBT is located at 1 Congress St., across from the Boston Public Market and above two subway lines and two commuter rail stations.
The new 34-story tower will be part of an ambitious 2.9 million-square-foot master redevelopment of a 4.8-acre site occupied by the hulking, brutalist Government Center garage, which has been partly demolished.
Transformative project moves forward
Upon completion, the Bulfinch Crossing scheme will bring six new high-rise and mid-rise buildings to the center of downtown, including more than 800 residential units, 200 boutique hotel keys and 82,500 square feet of retail, in addition to the office space. The transit-oriented redevelopment project broke ground in January 2017.
A joint venture between Delaware North and Boston Properties is building The Hub on Causeway, a more than 1.5 million-square-foot mixed-use destination a couple of blocks away.
"This has been a longstanding site for a number of years, and it's really bridging the gap between what is known as the Financial District and the North Station Market, where Boston Properties is delivering their product," noted Wil Catlin, managing principal of Boston Realty Advisors to Commercial Property Executive.
Fortune 500 financial services firm State Street Corp. announced in January that it would be moving its headquarters to the new tower from its current home at 1 Lincoln St. in Boston. The company will start a 15-year lease for 510,000 square feet in the new building in 2023, upon the expiration of its current lease. According to market sources, the firm will occupy the low-rise spaces in the building, which will offer an average floor plate of 27,500 square feet.
Construction of a 45-story luxury residential high-rise within Bulfinch Crossing is already underway. "Not everybody can afford the pricing," said Catlin. "But there's enough demand in the market that they can afford to build those residential components, and a subset of the workforce can afford to live there."