By Jeffrey Steele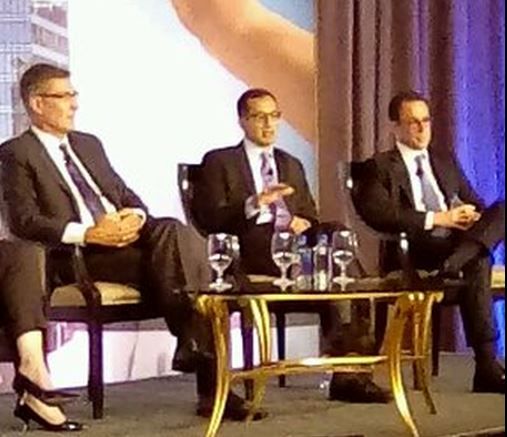 A late morning forum at the DLA Piper 14th Global Real Estate Summit brought together a handful of seasoned industry leaders to discuss "Evolving with the Times: Non-Traditional Realms for Real Estate." Moderator and Goldman Sachs Managing Director Jeffrey Barkley led panelists through a series of topics designed to meet several objectives, which included exploring the intersection of traditional real estate and the current economy, and examining non-traditional real estate sectors and types.
The panel comprised Deborah Harmon, Artemis Real Estate Partners co-founder & CEO, Randall Rowe, Green Courte Partners chairman, John Kukral, Northwood Investors president & CEO, and Lee Neibart, Ares Management partner & chairman of Global Real Estate Group . 
Barkley got things rolling by noting that amid industry optimism, clouds are massing on the horizon. They include concerns over capital, pricing and risk, all interrelated.
Tempted to sell
"I'm sleeping pretty well at night," Neibart responded. "The opportunities aren't as plentiful as they were. You have to look at 20 deals to do one. But we have found deals. We see this as a 'Steady Eddie' environment for the foreseeable future.  If you're not overly optimistic, and you have discipline on the opportunities you look at, you'll do very well. You have to be convinced at the beginning you'll make a profit for your investors."
Noted Kukral, "At some point, you'll see a downturn, where capital will be withdrawn from real estate. There's plenty of money now to buy things. The question is where will you be next year?  Our fund is structured so we have 15 years to own something before we look at selling. But today, it's hard to not be tempted to sell at these prices."
Rowe interjected his conviction that some of the pricing, from a seller's perspective, has been very attractive. "We look for opportunities where we will have a competitive advantage," he added. "There have been times when almost anything you bought, you did well. We have to think years out, and inherently are being more cautious."
Noted Harmon: "We're the new kid on the block and we started in the depths of the downturn. If you're a first-time fund these days, it's pretty terrible.
"There is significant pressure from institutional investors on fees. There's a general sense that our industry makes too much for whatever the return is."
Transformational technology
Asked by Barkley whether they'd been investing in traditional asset types, Kukral observed the primary investment strategy is to buy the most core investment available.
"If you can do that, why do anything else?" he asked. "But today, technology has the capacity to transform the way real estate is used. So we're saying what we buy today has to be relevant 5 to 10 years out. We believe people will want to move out to the suburbs, where there is good education for kids and good jobs . . .  We want to own everything. If you own all, you make it more of an integrated community. When you get the apartment and retail guys working together, the result can be very good."
Neibart said he's intrigued by investment management's evolution. "We didn't believe in malls; we weren't strong investors in industrial," he recalled. "We're building a hotel in Denver and we've only been at it six years. That's a joke. But at the end of the day—the hotel opens a year from December—it'll be a spectacular investment. We have to go where other people aren't, be five to seven years ahead of the crowd.
"In L.A., there are malls with a Sears, JCPenney and a closed Macy's. It's inevitable that land with tens of thousands in population around it will be repurposed and be a spectacular investment."
Asked why health care works for her, Harmon said it's evolving into a core asset. "It's like hotels were 20 years ago," she asserted. "The over-65 cohort will be 80 million [people]. It's depressing, but statistics say one in four in this room will have dementia, and there may be no cure in our lifetime . . . We're trying to think 10 to 15 years ahead of what will be a multi-decade opportunity. Our operating partners are not exclusive. We tell them, 'We'd like to be on the holiday card list, not necessarily a wedding invite list.'"  
Noting it'd be his last question, Barkley asked how panelists attract and retain talent. "It's not hard to attract talent, it's what you do with that talent," Neibart said. "Where we've fallen down is pigeonholing young talent to do only certain things. We've tried in our firm to get them out doing many things. People who fail have narrow specialties."
Added Kukral: "It's tougher today to get talent because the idea of making money is less important to younger people today."
Recalling a friend had once told her, "Your industry is pale, male and stale," Harmon said her firm is trying to make a difference in the way the industry hires. "We're trying to get and retain the best talent out there," she said.
Keep up with our 2017 DLA Piper Conference coverage.