By Jeffrey Steele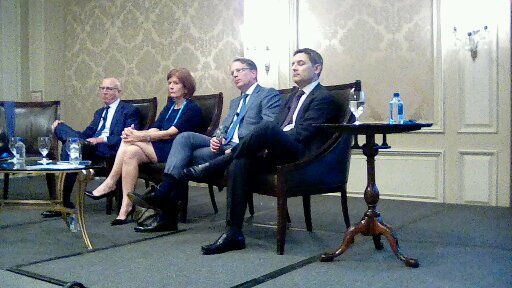 One of the two final panel discussions at the DLA Piper 14th Global Real Estate Summit was headlined Making Deals Amid Uncertainty. While panelists were not able to dispense with uncertainty, they were able to bring a degree of clarity to where deal making stands in 2017.
Moderator Bruce Cohen,  CEO of Wrightwood Financial, led a panel comprising Timothy Callahan, Callahan Capital Properties CEO, Pamela Herbst, AEW Capital Management head of direct investments, Reid Liffman, Angelo, Gordon & Co. managing director, and Jay Weaver, Walton Street Capital managing principal.
Cohen opened by opining that transactional volume, both buying and selling, feels lower. He asked panelists to weigh in on whether that statement matched their experiences.
"We've been relatively active," Liffman responded. "We're looking for things that are inefficient. There's been a fair number of deals pulled, and then brought out again. There's a disconnect, I think, between buyers and sellers."
Noting huge deals were seen throughout 2016, Weaver said sellers are now hesitant. "I agree with Reid. There's no gun to their heads, so sellers are not selling, and some are refinancing. But some are looking for 2015 pricing, and buyers don't want to offer that. If you're looking for 2015 prices in 2017, you're probably wrong. Prices aren't going back to that level."
Every once in a while, there's a seller who wants to sell more than they want to hold, Callahan said. "And you try to take advantage of that," he added. "The hardest thing in our market is to look ahead, not look back."
Liquid assets
Cohen next turned to the question of just how panelists chase value. A more interesting question, Liffman said, is related to what gets avoided. "We've avoided the 'B' mall, though we wouldn't if we felt there were very big redevelopment opportunities," he said.
Herbst noted her company attempts to stay in markets and building types that offer attractive liquidity. On that point, Liffman concurred wholeheartedly, noting, "Sometimes we see a great building, but it's chunky for that market, and would be hard to get out of."
As the conversation turned to supply, Callahan noted there is great market-to-market variability. A market like Seattle, he noted, will eat up new construction but, he added, "someone's going to suffer in D.C.
"I believe there will be absorption and then not as much construction. And after that we'll see growth again."
Edge cities
As for top trends they're witnessing, several panelists spoke of movement to areas suddenly more popular than they once were. "Companies are moving back to the urban core, and what people thought were obsolete offices are being renovated to work today," Weaver said.
"And it's not just happening in major markets, but in the Portlands and Raleigh-Durhams. The Millennials want that environment, and companies are following."
Herbst took a different view, stating her firm's conviction that over the next five to seven years, the industry will witness a move out to the edges of cities. "So we're moving out to those edge cities," she said. "We moved out of Seattle, into Bellevue, for instance."
The confab concluded on a fun note. Cohen asked panelists to forecast what city Amazon will pick for its second headquarters. Callahan and Weaver predicted Chicago, Herbst went with Washington, D.C., and Liffman sided with the Borough of Churches, Brooklyn.
Keep up with our 2017 DLA Piper Conference coverage.