October 7, 2011
By Dees Stribling, Contributing Editor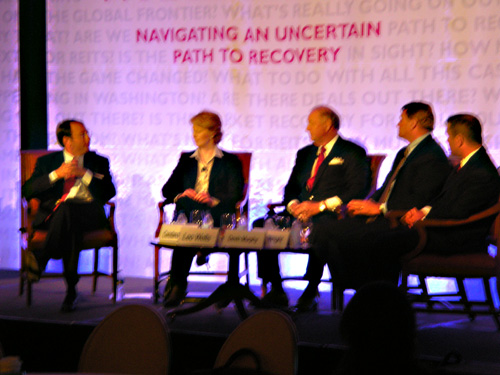 "When you're surrounded by alligators, that's not the time to go home and get a gun to shoot alligators," Leo F. Wells, president and CEO of Wells Real Estate Funds, told a crowded room during one of the concurrent sessions at the DLA Piper's Global Real Estate Summit 2011 this week at the Four Seasons Hotel in Chicago. Wells' comment got a good laugh from the audience.
The session was called "What's Next for REITs," and was moderated by Ross L. Smotrich, managing director of equity research for Barclays Capital. Other panelists besides Wells included Constance B. Moore, president and CEO of BRE Properties Inc.; Devin I. Murphy, vice chairman and managing director at Morgan Stanley; and Gregory S. Wright, managing director of real estate investment banking at Bank of America Merrill Lynch.
Wells' point was less about REITs than about the wider business environment, in which many businesses had failed to prepare for the recession — or for any downturn, really — by loading up on debt in the early- to mid-2000s without a thought about a contraction in the economy (that is, those alligators) until it was already under way.
As for REITs, Wells posited that the industry is doing well, all things considered, but isn't doing a good job of reaching a source of much future growth, namely retail investors. Investors in his funds tend to put in less than $50,000 each, he said, and are mainly interested in dividends, something REITs are well qualified to generate. "But as an industry, we haven't gotten the word out to this class of investor," Wells asserted. "I meet people who aren't even sure how to say 'REIT.' That's how badly we've done in getting the word to smaller investors."
According to Morgan Stanley's Murphy, REITs are in a position to expand their holdings, due to a number of competitive advantages they now have over private companies, but it's still a dicey environment overall. "REITs enjoy balance-sheet strength and an incredibly low cost of capital," he noted. "But no one has a strong sense of where things are going. There's too much uncertainty."
BRE Properties' Moore called 2010 "our acquisition year." By this year, however, cap rates had gotten too low to continue buying as many properties, she added, but on the whole her company was able to acquire some strong properties during a terrific window of opportunity after the panicky times of 2008 and '09.
"As everyone has heard, apartments have certainly been one of the better asset classes," Moore said. "Apartment REITs have outperformed as Gen Y delays household formation and new supply is constrained. We've seen aggressive rental rate growth recently, but I don't think that can go on forever. Next year, there's bound to be some pushback on rents."
Bank of America's Wright said that 2009 was a time of "recapitalization and balance-sheet repair" for REITs, which they were able to do quite successfully in most cases. "By 2010, there was more optimism, and that set the stage for growth beginning that year and into 2011," he said. "But the last six weeks have been less certain. Folks are waiting to see what's going to happen."
Another concurrent panel at this year's DLA Piper Global Real Estate Summit was called "What to Do With All This Cash?", which was moderated by Stephen R. Quazzo, CEO of Pearlmark Real Estate Partners. The cash in question belongs to real estate funds, who are looking for the best ways to use their considerable war chests in these uncertain times.
"Invest in demographics," was the suggestion of one panelist, Christopher N. Merrill, president & CEO of Harrison Street Real Estate Capital. "Student housing, health-care properties, self-storage: these assets classes have held up, and the outlook is still strong for them."
Whatever the long-term prospects for various asset classes, however, it's going to be a bumpy ride for investors at least through the end of the year, predicted panelist John Z. Kukral, CEO of Northwood Investors. "The world changed in August," he said. "There's been a change in investors' attitudes. Investors have stepped back, and wait-and-see has set in. Above all, they want safety now."
Alex Gilbert, president of Artemis Real Estate Partners, agreed that "fundraising has become brutal, especially in the last 60 days. Investors are now highly selective, and you have to be highly focused and disciplined to get anything done."
Lee S. Neibert, global CEO of AREA Property Partners, also used the term "brutal" to describe the rest of the year. "We've been listening very carefully, and there's no getting around the conclusion that the fourth quarter is going to be brutal for everyone," he said. "Investors are holding off. But we might see things improve after the first of the year."