By Gail Kalinoski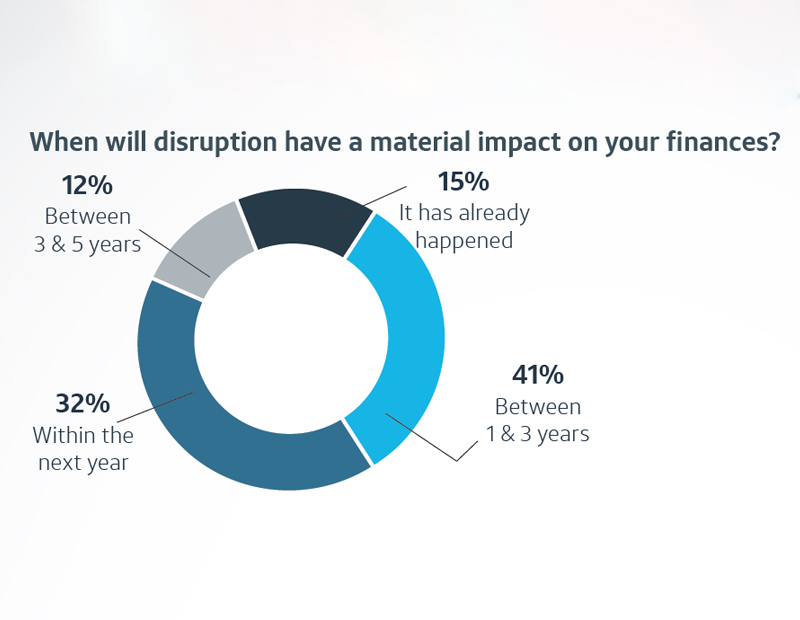 Is your company a "disruptor" or a "delayer"?
If it's a middle-market commercial real estate enterprise, it might be considered a "delayer," according to Disruption in the Middle Market, a study by Capital One Commercial Bank that examined how companies with annual revenues ranging from $100 million to $3 billion determine their views on disruption. The firm surveyed more than 300 senior executives from middle-market companies on their reactions to significant disruptions in their businesses, including disruption due to innovative technology, a new business model, or political, economic and environmental forces.
Of those surveyed, 88 percent of respondents reported their companies had already faced disruption or expected to experience it during the next three years. Only one-sixth of them believe their companies were ready to deal with a disruptive event. Four-fifths of the executives saw disruption as an opportunity not a threat and 43 percent felt their industry was more vulnerable than their particular company.
The study found that when it came to adopting "disruptive" technologies, companies in commercial real estate were among those most likely to be unprepared and were considered "delayers."
Key findings specific to the CRE executives responses included:
43 percent of CRE professionals reported their industry was quite or extremely vulnerable to disruption, and was six times more vulnerable to disruption than their company.
80 percent of CRE executives surveyed believe that their industry would be disrupted within the next three years.
30 percent of CRE executives reported that a disruptive strategy is most likely to emerge from the area of marketing and communications.
Among the "delayers," 82 percent of respondents either said mobile capabilities or social media are the most likely to present the greatest challenge to their company. Another 18 percent said they believe their company is vulnerable to a disruption that would provide a simpler, cheaper or more convenient alternative.
In addition to commercial real estate executives, survey respondents represented the following industries: transportation, logistics, distribution; professional services; technology, telecom, IT; financial services and insurance; energy, resources, chemicals; security; health care and manufacturing. Those interviewed included CEOs, COOs, CFOs, chief marketing and sales officers, chief innovation and information officers, senior vice presidents and vice presidents.
One of the key findings was that preparation is the exception not the rule and it also depends on the type of preparation. While 89 percent of middle-market firms reported taking at least one measure to defend themselves against disruption, those numbers dropped when it came to preparations like implementing a regular firewall test or having interruption insurance.
"Commercial real estate executives need to prepare for disruption," said Jeff Lee, president of Multifamily Finance at Capital One. "There are so many disruptive pieces being developed, disruption will come when someone figures out how to put it all together."
Size matters
The size of the company also factored in their reactions to disruptions to their business with the report noting companies with revenues between $2 billion and $3 billion are more likely to see it as an opportunity than companies with revenues between $100 million to $499 million. Not only are the larger companies more likely to be better prepared, they are also more likely to be pursuing a disruptive strategy of their own that could lead to a competitive advantage.
That is what the group Capital One dubbed the "disruptors." The report offers four strategies that companies possibly deemed the "delayers" could use to better prepare and position themselves for any coming disruptions.
Deploy comprehensive defensive measures. "Delayers" and smaller companies in particular lag behind in designating a person or team in-house to be collecting data for analysis and implementing regular firewall testing. The survey found 92 percent of "disruptors" had this kind of person or team, while only 41 percent of the "delayers" had it.
Strengthen financial relationships. Companies should look for established financial partners that have a deep understanding of their industry and the marketplace changes and challenges.
Increase spending on R&D. An investment in R&D will help a company not only defend against disruption, but give it the tools to potentially become a "disruptor." The report noted almost two-thirds, or 63 percent, of "disruptors" had increased their overall R&D budget, while 33 percent of the "delayers" had not.
Adopt disruptive financial technology. The report recommends adding digital tools and technologies like online and mobile payments to help streamline operations, create efficiencies and reduce costs.
Image courtesy of Capital One Commercial Bank